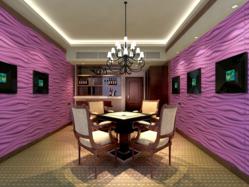 We are excited about this new addition to our product line. - VP of Decorative Ceiling Tiles Milan Jara
(PRWEB) January 31, 2013
These 1.2 mm-thick tiles, known as EcoTiles, are created from bamboo pulp, in much the same way that paper is created from wood pulp. Like the current line of Styrofoam tiles, these bamboo tiles can be cut with a utility knife, making them easy to install in locations of any shape.
The tiles are easy to install using a solvent-based contact cement such as Weldwood original formula by DAP or Heavy Duty Contact Cement by Lepage.
The attractive 3D designs vary from 1/4" to 1/2" deep, allowing them to add both dimension and interest to the ceiling or any area they cover.
The tiles are available in two varieties, a 12-pack of 19.6 x 19.6 inch square tiles, or a 6-pack of 24.5 x 31.5 inch tiles. Each package is designed to cover a 32-square-foot area.
The tiles can be ordered in the standard white or in a variety of hand-painted colors, or they can be painted by the installer using any type of paint.
More photos and information about these and other Decorative Ceiling Tile products can be located on the DCT website http://www.decorativeceilingtiles.net/3d-bamboo-ecotiles/ and the DCT Facebook page https://www.facebook.com/DCTiles.
Decorative Ceiling Tiles' products have been prominently featured in the television broadcast sets of the Emmy® Awards and the American Country Awards. Other creative uses for these decorative tiles include photography backdrops and floors, as well as headboards for beds.
With headquarters in Florida and distributors and installers throughout the United States and select overseas locations, Decorative Ceiling Tiles.net is the online leader in the sales of decorative ceiling tiles.