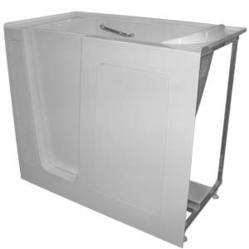 It is our hope, this new option for financing will allow those who need walk in bathtubs and roll in shower stalls to be able to attain one without the regular up front costs.
New York, NY (PRWEB) January 31, 2013
Aging Safely Baths & More, a leading national retailer committed to making walk in bathtubs affordable, officially announces that it will refer customers to Home Loan Bank for tub financing. Customers who qualify for home improvement loans will be able to manage the costs of a walk in tub or roll in shower more easily.
"The inability to pay for senior bathtubs can be frustrating when customers need a safe bathing bathroom fixture to preserve independence or provide stability when bathing. Aging Safely recognizes that customers may need financial assistance to afford walk in bathtubs or a roll in shower product. In addition to offering low prices on hydrotherapy tubs, Aging Safely, together with Home Loan Bank, is helping customers get the funding they need," said Zach Wennstedt, CEO of Aging Safely.
Aging Safely sells a high volume of senior bathing products to the elderly who are often on fixed incomes. Walk in bathtubs and showers help them maintain their independence and live alone. Some customers just need a low threshold fixture, but others want to enjoy the benefits of hydrotherapy. A hydrotherapy walk in tub has water, air jets, or both. The jets create a soothing massage that can potentially promote relaxation, improve blood circulation, reduce inflammation or ease aches. Senior bathtubs and roll in shower stalls can be out of some customer's affordability range, so this option for home improvement financing can assist those who require this type of product.
The company wants to ease the burden of arranging loans by referring Home Loan Bank, which will not require customers to refinance their homes to purchase a walk in tub appliance. The straightforward process requires talking to a loan officer and filling out a loan application. Fast financing allows customers to be able to afford a bathroom fixture, such as a roll in shower or hydrotherapy bathtub. Customers can also pay off their home improvement loans early, without a penalty, so financing walk in bathtubs can be short-term.
Aging Safely is constantly seeking new ways to make senior bathtubs affordable, so more customers can have a bathroom that is conducive to aging in place. Aging Safely offers products from four of the leading walk in tub manufacturers, so customers can choose a brand the fits their budget. Additionally, Aging Safely offers the most competitive prices in the industry, and shoppers can access additional discounts on a roll in shower product through Aging Safely's Twitter and Facebook pages. Individuals can also enroll in Aging Safely's referral program and receive money when referrals purchase walk in bathtubs. Helping customers obtain loans is one more way that Aging Safely is reaching out to its customers to make walk in tubs and showers affordable.
Contact Information:
Zachary Wennstedt
1-888-779-BATH(2284)
info (at) agingsafelybaths (dot) com