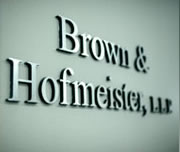 We are excited on the release of our new website to better serve existing and new clients.
Dallas, TX (PRWEB) January 31, 2013
Robert Brown and Brown & Hofmeister LLP are pleased to announce the release of the new website bhlaw.net. The firm partnered with law firm web site company Blue Ervay LLC to enhance their web presence with the goal to better serve existing and new clients.
As part of the redevelopment, the Brown & Hofmeister website now provides an extensive resources section that provides educational information on current practice topics and case law.
About Brown & Hofmeister LLP:
Attorneys at Brown & Hofmeister represent clients in a wide number of practice areas from Municipal Law to Business and Commercial Law. The firm has a solid commitment to several areas of the law so that they can assure clients the best possible legal representation.
The firm has built a reputation for helping cities and government agencies control their annual budgets for outside counsel. We are proud that some of our attorneys have been representing municipal clients for more than twenty-five years. This knowledge, backed by years of practical experience, has helped us represent numerous public entities throughout North Texas with their day-to-day legal needs.
About Blue Ervay LLC:
BlueErvay, LLC provides law firm web site design & consultation to small and medium law firms throughout the nation. Run by attorneys for attorneys, BlueErvay understands the practice of law. We not only create new web sites and revitalizes aging ones, but work with law firms to provide web-based strategies and technologies to improve processes and business of the firm.
BlueErvay also provides custom software, consultation and business solutions primarily focused on helping lawyers and law firms. We pair high quality designs with cutting-edge technology, along with SEO and marketing expertise, while always focusing on the unique practice of law. To learn more about how they can help take a business to the next level, please visit them online at http://www.blueervay.com