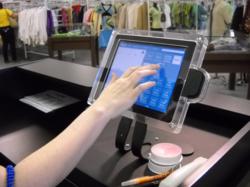 ArmorActive makes a great product that is not only durable, but is also pleasing to the eye.
Salt Lake City, UT (PRWEB) January 31, 2013
ArmorActive Inc., a leading tablet security company, is honored to have contributed to the recent overhaul of time clock and POS systems at Goodwill of North Florida's locations. The time clock project was a successful implementation of inexpensive, iPad-based virtual time clocks for their employees. Along the way, Goodwill's project also evolved into an iPad point-of-sale (POS) system revamp, saving the company even more time and money than originally expected.
In the initial stages of the project, Adam Thayer, IT Manager for Goodwill, needed a time clock solution for employees at their 18 Donation Center locations. After doing some research, Adam decided to go with one of the many time clock applications available for the iPad, in order to save money in both upfront set-up costs and recurring fees for data lines. Looking for a way to securely display the iPads necessary for the time clock system, Adam found what he was looking for in the Full Metal Jacket iPad enclosure, a secure iPad display kiosk from ArmorActive, with a key-locking security feature.
Adam and his team mounted the Full Metal Jacket secure enclosures flush to the wall, allowing the iPads to be powered through the wall. With this simple, maintenance-free solution, it was estimated that the iPad virtual time clocks have saved Goodwill almost 500% in upfront hardware costs and well over $2k per month in recurring fees, in comparison to traditional time clock systems.
While working with ArmorActive on their time clock implementation, Adam also realized he could save even more money for Goodwill by converting their current point-of-sale (POS) system to an iPad-driven POS system. Adam decided to go with ArmorActive's Strata Magtek iDynamo iPad enclosure, mounted to the Gravity Flip table stand. On Tuesday, January 29th, Goodwill installed their final of 53 iPad POS registers, at a total project cost that is reported to be less than half of what was spent on their previous POS system - 10 years ago.
Speaking about ArmorActive's service and product lines, Adam Thayer, IT Manager for Goodwill of North Florida commented, "ArmorActive makes a great product that is not only durable, but is also pleasing to the eye."
In addition to the easy-to-install hardware solutions by ArmorActive, the iPad POS systems were extremely simple to setup, even when custom configuration was required. In fact, Adam and his assistant Cory stated that they were able to install all 18 virtual time clocks and 53 iPad POS systems in their region on their own, even though some of the stations required weighing systems for "per-pound buying" or bluetooth barcode scanner integration.
Goodwill is a great example of how many companies are aggressively looking for the most cost-effective and user-friendly systems to take their company to the next level in technology. By using the iPad, in combination with ArmorActive tablet kiosk hardware, Goodwill was able to drastically decrease their costs, while at the same time improve their overall efficiency.
About Goodwill of North Florida
Goodwill of North Florida is the area's largest not-for-profit specializing in job training and placement services for individuals with barriers to employment. Last year, Goodwill of North Florida served over 52,700 individuals and placed 11,533 into employment. None of these services would be possible, if not for the hundreds of thousands of donors who contribute their gently used clothing, furniture and household items to Goodwill. Revenues generated by the sale of donated items fund our mission. To learn more, visit http://www.goodwilljax.org
About ArmorActive
ArmorActive is a global tablet security solutions company. Unique in the industry, ArmorActive provides a team of Account Managers to help customers make the best decisions at all stages of their tablet-based projects, from procurement to implementation. A wide variety of ArmorActive products are available at http://www.ipadenclosures.com