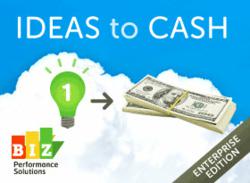 San Jose, CA (PRWEB) January 31, 2013
A very real problem today for innovative management is how to evaluate and sort through the business opportunities and product options, given all the factors to take into consideration. And time to market is critical for success; any opportunity to gather and evaluate factors automatically means saved time, saved people hours and avoiding wasted time.
In Winning at New Products, author Robert Cooper estimates that about 50% of all resources allocated to "product development and commercialization" in the U.S. goes to products that a firm cancels or produce an inadequate financial return."
According to a study by Copernicus Marketing Consulting and Research, only 10-20% of new Products and Services Development succeed and echo by a study by IRI, where less than 25% of all New Products Introduced broke even.
Value Creator – Innovation Management software from Biz Performance Solutions (BPS) introduces automated answers for evaluating, tracking, sorting and providing real-time recommendations for strategy related action, available in its Spring 2013 release.
Value Creator features these key innovations and aids:

Support for the organization's strategic planning process.
Maps strategic objectives to business and personnel execution.
Does due diligence of the business needed to prioritize possible projects (related to the business plan), including market segmentation analysis, thought leadership analysis, competitive analysis and partner analysis and allowing reference of source of such information
Automatically re-prioritizes projects base on the latest information (avoiding wait time that would otherwise be needed to conduct strategic planning sessions).
Shows real-time investment (down to product level)
Shows risk factors associated with specific product or service development.
Calculates ROI for market segments (including product and service positioning).
Forecasts market share and risk factors delivering to those markets.
Calculates Customer-related ROI (verifying profitability)
By forecasting ROI, may trigger re-evaluation of strategy if current strategy is failing.
Automatically re-prioritizes strategies based on execution action feedback.
Forecasts personnel and skill sets needed to meet upcoming schedule/product/service challenges.
Evaluates risk and ROI if personnel & skill set are limited, factoring in most favorable approaches given current and forecasted resources
Suggest re-prioritizing strategy if new capabilities are not realized
To learn more, see BPS's Video that quickly shows you the process, approach, and benefits of the BPS Value Creator – Innovation Management Software Solution.
Biz Performance Solutions is a leader in cloud based Innovation Management solutions providing applications and services to organizations that improves strategic alignment, including IT benefits, as well as profitability by way of effective and efficient management of the due-diligence and innovation pipeline, by using a series of performance dashboards that include
market segmentation, competitors, partners, proforma and zero-based budgets, and by using process automations, including real-time return on investment and risk assessment.