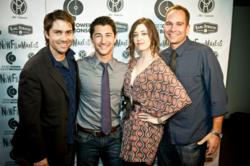 Los Angeles, CA (PRWEB) January 31, 2013
Each month, NewFilmmakers Los Angeles announces a screening program rich with documentaries, short and feature films delivered from the next generation of filmmakers. From award-winning directors, cinematographers, screenwriters, and actors, the films range from the laugh out loud comedies to documentary films bringing a light to previously unheard stories.
Students, both local and international, have embraced the LA Film Festival. Graduates from American Film Institute, USC Film School, UCLA, Stanford University, New York University Tisch School of the Arts, Columbia College, and UC Berkeley, plus many others, have all screened thesis projects and directorial debuts at NewFilmmakers LA.
Below, NewFilmmakers LA highlights a few notable filmmakers from the past several years, and where they are now.
Annabel Park, with filmmaker Eric Byler, directed the award-winning documentary film 9500 Liberty. After screening at NewFilmmakers LA in August 2010, the film, which chronicled the effects of a divisive debate over immigration policy on a community, went on to be released theatrically in over 30 cities, won four festival awards, and was picked up by MTV Networks. 9500 Liberty premiered on cable television in 2010.
Currently, Annabel Park is working on another documentary video series which will be developed into a feature film. Story of America: A Nation Divided, focuses on fundamental political, economic, social and cultural issues through the voices of everyday Americans. "The goal is to engage Americans from all across the nation in a dialogue about how our nation is divided and how we can achieve greater unity, a stronger democracy and prosperity," says Park.
From Executive Producer Stephen Gyllenhaal, Lychee Thieves held its World Premiere at NewFilmmakers LA Film Festival in March of 2010. Starring 50 First Date's Pomaika'i Brown, Lychee Thieves screened at over 40 international film festivals, including the Vesak Buddhist Film Festival in Sri Lanka, the Mexico International Film Festival, the Big Island Film Festival, and other festivals in France, Spain, Canada, Switzerland, Russia, and Nepal.
Over the past two years, Gyllenhaal has written and directed films including Grassroots, starring How I Met Your Mother's Cobie Smulders, American Pie's Jason Biggs, and Six Feet Under's Lauren Ambrose, and Lifetime's original movie/backdoor pilot Sworn to Silence, starring Southland's C. Thomas Howell, Big Love's Christian Campbell, and Scream's Neve Campbell. Sworn to Silence premiered January, 2013.
Up next for him is The Kennedy Detail, a "feature film that follows the four secret service agents that were closest to JFK and the profound effect that his assassination had on their lives", according to Gyllenhaal. Following the success of the book, The Kennedy Detail, Gyllenhaal was approached by producers from a documentary on the subject. "I was so moved by these men that I couldn't pass up the opportunity to tell their story," he said.
Kate VanDevender's short film, Will & Fiona, screened as part of the 2011 December program. A graduate of Northwestern University's acting program, she co-founded The Open Door Mime Company, an all-female mime troupe, while living in New York.
In the past year, VanDevender returned to NewFilmmakers LA Film Festival with her FremantleMedia original web series/short, Funny in Love. Her comedy web series, Actor Diaries, has won a Telly Award, two Stay Tuned TV Awards, and been featured in the LA Comedy Festival. Actor Diaries is currently in development as a television pilot.
Terence Heuston's short film, Maddoggin', a film about two young East Los Angeles teens being pressured to join a local gang, screened in December of 2011 to a sold-out audience. Since, Maddoggin' has screened at over 25 film festivals, including the UK's Raindance Film Festival, Palm Springs International Shortfest, and Brussels International Short Film Fest. The short has also picked up awards at Hollyshorts, Audience Award and Best Actor for David Castaneda at NBC/Universal's Shortcuts, and Best Narrative Short at San Diego Latino Film Festival, among many more.
Heuston, a graduate of the Pacific Conservatory for the Performing Arts, has also studied Cinematography and Screenwriting at UCLA. His directorial debut, Russel Fish: The Sausage and Eggs Incident, starred Golden Globe Award Winner Chris Colfer from GLEE.
For more information about the NewFilmmakers LA Film Festival, please visit http://www.newfilmmakersla.com. Submissions are also currently being accepted in consideration of future screenings.