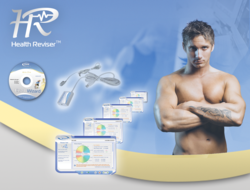 Fitness Test is a great way to assess body performance and a key to strong cardiovascular health.
Seattle, WA (PRWEB) January 31, 2013
Health Reviser team announced a new Fitness Test focused on assessment of body functional capacity at any moment in time thus allowing determining individual safe limits for exercises designed to improve cardiovascular health, muscular strength and endurance. Apart from those significant features the test allows tracking down the progress individuals are making, as well as dynamics of personal fitness condition throughout the day.
Why Health Reviser team is focusing on health-related fitness? Company experts explain that health-related fitness includes a lot more than just muscular gain or cardiovascular performance. A balanced diet and proper timings of food intakes significantly impact both health and fitness. Focusing on one aspect of fitness or the other will not make a fundamental change in overall fitness but can make a false visual illusion of fitness improvement.
How Health Reviser can help make improvements in both health and fitness? It is difficult and sometimes even impossible for people to start fitness activities being well prepared with a professionally developed personal fitness plan. Company experts realized that and released Health Reviser not only with abilities to evaluate person's fitness but also to track dynamics of health changes. This allows users to jump into fitness activities while making sure those do not make any negative impact on the overall health.
New fitness test allows users make adjustments before each workout. Why it's important? Lots of people follow a certain routine when training at the gym or outdoor with a regular schedule and diet. While this is most likely safe for young people, it's clearly not the same for older ones. Every day is different and is affected by weather, stress factors, foods and sleep patterns. And every day body functional capacity changes, which significantly impacts body's ability to perform exercises at the same intensity as the last time. And exercising above the current safe limits will force resource reallocation in the body and increase risks of heart disease. Health Reviser fitness test is very easy to perform with ste-by-step on-screen instructions. From start to end the test should not take more than 3-4 minutes, and the report is delivered instantly on the screen.
The simplicity of Health Reviser assessments is quite surprising. After seeing lots of complex, expensive and time-consuming fitness assessments which require a significant physical work, Health Reviser fitness test seems like a revolution in fitness industry. Tools like this allow reducing health risks for fitness enthusiasts who do not have time for the expensive and exhaustive fitness assessment procedures, and want to boost both fitness and health.
"We're excited to get feedback from users on how easy and informative the new Health Reviser Fitness Test is," says Alexander Bandarchuk, VP of Engineering of Health Reviser. "With our fitness technology we've detected lots of cases of overtraining and undertraining. We stand for quality of our assessments and verified our fitness test on many famous sportsmen and teams. We're inspired to help people reach their best muscular and cardiovascular goals, make progress faster and avoid overtraining."