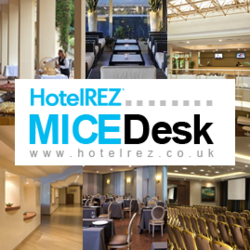 (PRWEB UK) 31 January 2013
HotelREZ, one of the leading hotel representation companies, is delighted to announce that our MICE Desk is up and running and producing additional revenue for its member hotels through the lucrative MICE market.
HotelREZ are pleased to be offering the HotelREZ MICE Desk as an additional solution to its member hotels, to help boost their core revenue. HotelREZ has the best team of professionals providing a high level of experience and knowledge at placing meetings and conference business, and with a wide-ranging portfolio, HotelREZ are able to book any type of event.
With a 50% increase of MICE enquiries in the travel sector in the last year alone it is certainly a sector with a lot of potential. HotelREZ has proactively communicated its new MICE Desk business to its database of over 125,000 selected agencies and bookers through targeted newsletters.
At HotelREZ, we are very confident that our new MICE Desk will raise awareness and continue to increase reservations for our hotel members from Meetings, Incentives, Conventions and Events packages.
For requests and further information about HotelREZ's MICE Desk, do not hesitate to contact our dedicated MICE Executive, Emma Stevenson in the Demand Team on 0845 004 9393 (ext. 6531)
About HotelREZ
HotelREZ is a hotel representation company that provides Distribution, Revenue, Sales and Marketing Services. It was set up in 2004 to meet the distribution needs of independent hoteliers and now represents over 1,000 independent hotels and independently owned groups in more than 30 countries worldwide, offering great portfolio of luxury city centre hotels, country manors, boutique hotels and beach resorts that will meet every client's expectations. HotelREZ is the largest hotel representation company with alliances, exclusive partnerships and presence in over 80 offices worldwide.
For requests and further information about HotelREZ, do not hesitate to contact us at info(at)hotelrez(dot)net
Visit our websites http://www.hotelrez.net/ and http://www.hotelrez.co.uk/