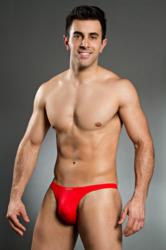 Deadgoodundies is the perfect destination for undies lovers because it stocks one of the widest ranges of men's underwear and swimwear available anywhere in the world
(PRWEB UK) 31 January 2013
A surge in women buying for men in the run-up to Valentine's Day has been noted at dedicated men's underwear website Deadgoodundies.com this year.
Female buyers are in a significant minority for DGU most of the year, apart from pre-Christmas, January and early February. But this year there is an upturn in female shoppers buying for their loved ones.
Deadgoodundies' founder Adam Davies believes increasing media attention on men's underwear and hunky male celebrities in the press could be behind the uplift.
"Women really do enjoy seeing a fit male body. Think of the famous Diet Coke Break advert - just reworked and re-released this month. They want their Valentine to look good without his clothes on too," he says.
Since the start of January, an increasing number of women have been shopping at Deadgoodundies for pants in readiness for February 14th. DGU's returns policy means gifts can be exchanged up to 14 days after Valentine's Day.
"Women buying a pair of boxers or briefs is much simpler than men buying lingerie. Ladies' underwear has so many variations in size and shapes. Men's underwear does vary, and the fit is different between brands, but basically she just has to know his waist size," Adam explains.
"Deadgoodundies is the perfect destination for undies lovers because it stocks one of the widest ranges of men's underwear and swimwear available anywhere in the world. Whether a lady wants to update her man's white briefs or tempt him with something colourful, we have plenty of choice.
"But just as women might be a bit, shall we say perturbed, by suddenly being presented with a set of red undies, we do advise women to check his current underwear collection before buying. If the drawer's full of black, he might be reluctant to wear white! A change of brand can mean more luxurious pants as a treat. And of course multipacks, especially those incorporating different colours, can double or triple the pleasure of receiving."
Company Information
Deadgoodundies is an online only retailer stocking the best in designer men's underwear and swimwear from all over the world including: (in alphabetical order) Big Boys, Body Art, Bruno Banani, Bum-Chums, Clever Moda, Doreanse, Ergowear, Gigo, Gregg Homme, HOM, James Tudor, Jockey, Joe Snyder, MaleBasics, MANstore, Mey Bodywear, Mundo Unico, Nils Bohner, Obviously For Men, Olaf Benz, Pikante, PUMA, Sloggi, Solar TanThru and Zoggs. DGU also stock selected loungewear, socks, T-shirts and more from their best selling brands.
DGU are incredibly media friendly and always have high res images on hand for fashion pages and samples for photo shoots as well as expert comment and market insight from partners Adam and Jane.
For more information contact DGU PR Jane on 01743 271615 (international +44 1743 271615) or email pr(at)deadgoodundies(dot)com