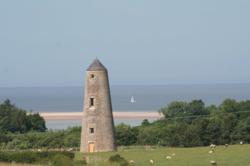 The Judges were united in voting The Ducket in Northumberland, winner of 'Best Unique Retreat' award and thought the combination of its luxurious interiors and individuality gave it the edge
Wilmslow, England (PRWEB) January 31, 2013
The Judges were united in voting The Ducket in Northumberland, winner of 'Best Unique Retreat' award and thought the combination of its luxurious interiors and individuality gave it the edge. Standing tall and proud and watching over the stunning countryside, with spectacular views of Budle Bay and Holy Island, the owners John and Heather Sunderland transformed the 65 feet high tower into luxury self catering accommodation. The Ducket has a mystical feel to it, which brings to mind the fairytale of a handsome prince riding through the forest and after hearing Rapunzel singing from her tower, goes to rescue her. This unique and enchanting tower with its special romantic atmosphere has been responsible for many marriage proposals and its secluded and beautiful location has inspired painters and poets.
Sea Gem's at Camber, East Sussex, claims the 'Best Sea View' award and its cutting edge design incorporates modern clean lines, state-of-the-art glass, natural limestone, solid oak floors and panoramic sea views, with direct access to the beach from the stunning coastal garden. This fabulous house sleeps 8 people and nearly every room has amazing sea views, where you can sit watching the sunset and see the sky turn pink at and fishing boats appearing like a string of pearls dancing on a turquoise ocean. Staying at Sea Gem offers a glamorous escape and this luxury beach house is ideal for groups of friends and extended families to enjoy those sun-bleached days, with walks on the soft golden sands, listening to the sound of the ocean and watching the spectacular sunsets.
Chaffeymoor Grange at Bourton, Dorset, was winner of 'Best Group Getaway' and offers a fabulous rural venue for corporate events and special occasions. Its setting and views of the Blackmore Vale set it apart from its competitors and with five acres of glorious gardens, specular water fountain and even its own lake with a rowing boat, it makes the perfect group getaway. Chaffeymoor Grange is a magical place to hold intimate weddings and with the living room and dining room licensed for civil marriages, couples are able to combine both their wedding and reception in this beautiful house which sleeps 20 and ideal for family and friends to stay in one place.
The fabulous Cider Mill in Herefordshire, wins the prestigious 'Best Unique Property' award for its stunning interiors and facilities. Located in Goodrich, close to Ross on Wye and surrounded by breathtaking countryside, its part of Flanesford Priory self catering accommodation. The Cider Mill which is thought to be over 300 years old, was careful restored in 2011 and has been designed to offer spacious and luxury self catering accommodation, with a ground floor open plan living area and four bedrooms all having a ensuite bathrooms. The judges were impressed with the attention to detail in the design of the Mill and the clever way in which the original characteristics of the buildings have been preserved, whilst creating a light, spacious interiors and luxury accommodation for holiday-makers.
More details and photos on all the winners can be found at http://www.uniqueholidaycottages.co.uk/locations/unique-awards-winners
Unique Holiday Cottages is a luxury online self catering directory with the emphasis on luxury and individuality and was set up by Anna Fern in 2010. Holiday cottages are categorised by county such as the Devon page at http://www.uniqueholidaycottages.co.uk/locations/devon or visitors can begin at http://www.uniqueholidaycottages.co.uk/
Anna announced the winner this morning and said 'I have been over welcomed by the standard of the properties that entered the awards and visiting all the shortlisted properties has been inspiring. All the winners deserve recognition for not only the individual service they provide, but for some of the new concepts and ideas they have introduced into their holiday properties.
This press release was written and distributed on behalf of Unique Holiday Cottages by Brand Outreach, an online brand management agency that helps businesses grow and protect their online brand.