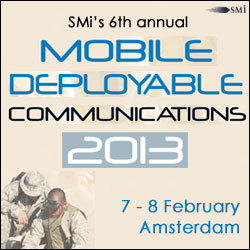 (PRWEB UK) 31 January 2013
31 January 2013. The 6th annual Mobile Deployable Communications conference will bring together a line-up of leading military figures to discuss the latest developments within the field of communications. Over 16 industry experts will debate the latest issues we face, define strategies and shape future policy.
To register visit - http://www.smi-online.co.uk/mobiledeployable-comms23.asp
The two day event will address key topics including: CIS networks and tactical communications, C4I standardisation, interoperability across the global armed forces, operational experiences and future technologies.
The domination of current events across the defence sector has reignited the need for multinational cooperation through interoperability. This year the conference will address the communication equipment used by our armed forces when deployed illustrating that the practical elements are just as significant as the technology which supports deployed soldiers.
New developments for the 2013 event:

Increased representation from European armed forces and global defence organisations
Innovative presentations on the capabilities and requirements in the fields of military communications
A more detailed and technical approach discussing communication equipment and the technical aspects of military networks will be addressed as a suggestion from past delegates
More focus on training foreign nationals on how to use current communications systems i.e. the Afghan Army and Police Force
Our expert speaker panel includes:
Colonel Christine Marteau, Head Telecommunications Technical, DGA, France
Colonel Horst Treiblmaier, Chief of Communications, Ministry of Defence, Austria
Colonel Krasimir Yordanov, IT & Security Branch Chief, CIS Directorate, EU Military Staff
Colonel Neven Cugelj, Defence Attache, Embassy of the Republic of Croatia
Lieutenant Colonel Bruno De San Nicolas, Section Head Communication Services, NATO ACT
Lieutenant Colonel Detlev Simons, Commanding Officer, Army Materiel Command
Lieutenant Colonel Piotr Adamski, Senior Staff Officer, General Staff of the Polish Armed Forces Major Sebastian Trojanowski, Chief S6, Command Support Brigade, Multinational Corps North East
Michael Sieber, Assistant Director R&T, European Defence Agency
Have the chance to network with the key players within the mobile deployable communications community and register today!
To register your place please visit http://www.smi-online.co.uk/mobiledeployable-comms23.asp
For further information please contact Teri Arri on +44 (0) 20 7827 6162 or email tarri(at)smi-online(dot)co(dot)uk
----ENDS------
About SMi Group
Established since 1993, the SMi Group is a global event-production company that specializes in Business-to-Business Conferences, Workshops, Masterclasses and online Communities. We create and deliver events in the Defence, Security, Energy, Utilities, Finance and Pharmaceutical industries.
We pride ourselves on having access to the world's most forward thinking opinion leaders and visionaries, allowing us to bring our communities together to Learn, Engage, Share and Network. We hold events in over 30 major cities throughout the world including London, Paris and Singapore and to date and have welcomed over 200,000 participants from 80 countries.
For more information, please visit http://www.smi-online.co.uk