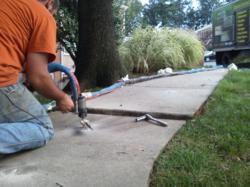 Williamsburg, VA (PRWEB) January 31, 2013
Concrete Jack has earned the service industry's 2012 Angie's List Super Service Award, an honor bestowed annually to approximately 5 percent of all the companies rated on Angie's List, the nation's leading provider of consumer reviews on local service companies.
"Concrete Jack's goal is to provide superior concrete leveling service. Receiving this award in the Tidewater, Richmond, and Northern VA markets demonstrates we are achieving our goals," said Kirk Roberts, Operations Manager for Concrete Jack. "We are honored to receive this award based on feedback from our customers."
"It's a select group of companies rated on Angie's List that can claim the exemplary customer service record of being a Super Service Award winner," said Angie's List Founder Angie Hicks. "Our standards for the Super Service Award are quite high. The fact that Concrete Jack earned this recognition speaks volumes about its dedication providing great service to its customers."
Angie's List Super Service Award 2012 winners have met strict eligibility requirements, including earning a minimum number of reports, an excellent rating from their customers and abiding by Angie's List operational guidelines.
Service company ratings are updated daily on Angie's List. Companies are graded on an A through F scale in areas ranging from price to professionalism to punctuality. Members can find the 2012 Super Service Award logo next to company names in search results on AngiesList.com.
About Concrete Jack: Concrete Jack is based in Williamsburg, Virginia, and serves Virginia, North Carolina, Maryland, Washington DC, West Virginia and Pennsylvania. Concrete Jack's crews install lightweight cellular concrete, chemical grout, high density polyurethane and sand-based grout, typically referred to as slabjacking.