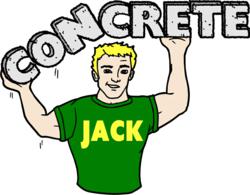 Baltimore, MD (PRWEB) January 31, 2013
Did you know that the Maryland Home Improvement Commission requires that any person performing a sales function, such as estimating or inspecting a home for repair work be licensed as a Salesman?
Concrete Jack is happy to announce that two more of our estimators have been licensed as Home Improvement Salesmen by the Maryland Home Improvement Commission.
Alex Darrow and Clayton Perry will now join Kirk Roberts in being able to estimate residential jobs in Maryland. Licensure ensures that Alex and Clayton are knowledgeable of Maryland Home Improvement Commission laws regarding contracts, liens, subcontracting and other essential elements of contracting with residential customers.
As a licensed Maryland Home Improvement Contractor, Concrete Jack is also registered in all localities in Maryland to perform commercial and industrial contracting.
About Concrete Jack: Concrete Jack is a Virginia-based concrete lifting, foundation repair and utility grouting contractor. We install sand-based grout (slab jacking), high density polyurethane foam (foam jacking), lightweight cellular concrete and perform chemical grouting soil stabilization. Concrete Jack serves the entire state of Maryland, for residential, commercial, industrial and municipal customers. Learn more about Concrete Jack by visiting http://www.ConcreteJack.com.