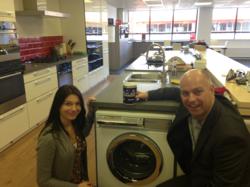 Well it is early days, and to be honest, any powder would wash well in a machine like this, but the association of washing with Distinction in what has to be one of the world's finest washing machines, is something we would like to explore
United Kingdom (PRWEB UK) 31 January 2013
V-ZUG who is celebrating 100 years this year, is also known for producing world firsts in washing performance. "The Adora is a triple A machine and has every feature you could imagine you'd ever want or need from a washing machine," said Louise from Distinctive Wash. "It is incredibly easy on the eye, extremely quiet, even during the 1600rpm spin cycle and offers gentle wash technologies rarely used by other manufacturers. This includes a setting suitable for cashmere and silk where the drum gently agitates, or rocks, rather than spins. And a setting for a longer wash overnight provides the biggest water and energy savings."
"Actually seeing the micro structured 14,000 holes in the drum really put into perspective how their technology enables the machine to remove so much water from the wash without needing a high spin and thus damaging the fibres of the clothes," said Louise. "This is one machine you would have absolutely no trouble with when washing your silks or hand wash delicate items, and it has easy to follow single click settings for just that."
So what are you hoping to achieve from your new connection with V-ZUG Louise? "Well it is early days, and to be honest, any powder would wash well in a machine like this, but the association of washing with Distinction in what has to be one of the world's finest washing machines, is something we would like to explore".
"Distinctive was designed to care for designer-label threads whilst imparting a softly seductive designer scent, the most masculine scent there exists in laundry care," said Louise. "It's a gentle but superior enzyme based formula for washing at just 30 degrees, fully biodegradable and phosphate free therefore we are doing our bit for the environment too."
"All of our brand unique selling point's fit extremely comfortably with the V-ZUG and although their brand is only just beginning to be known about in the UK, they have dominated the market in Switzerland for decades. Plus, in the absence of a British Manufacturer of washing machines, Swiss technologies are a good, trusted alternative for a British washing product to ally itself with."
"Although our product was intended as marketable for men, we have as many female purchasers buying it for the reason that they absolutely love the designer fragrance as opposed to typical laundry product. Our next items to be launched include a more feminine designer fragrance and a sleep-easy variety. Designer market niche and boutique all are synonymous with the V_ZUG. After all, a washing machine dryer combo will set you back a little over £5,500. A tub of Distinctive inclusive of delivery anywhere in the UK is only £14.99."
These machines will never be affordable for the average household, but for homes that also afford makes like Mercedes, Porsche and Bose, they are certainly another designer product offering the best in technology for an affluent household. If someone wants the very best that money can buy then both V-ZUG and Distinctive meet that criteria.