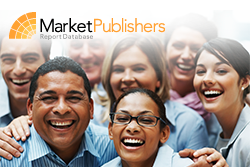 London, UK (PRWEB) January 31, 2013
Coffee holds the second place in the world in terms of the sales volume, outrun by oil only. Worldwide daily coffee consumption is evaluated at approximately 500 billion cups. Americas account for over 65% of the total coffee production. Arabica calls for the major market share, representing nearly 70% of the overall amount of the grown coffee beans. Almost 90% of the global coffee production falls to the share of developing countries. At the same time, industrialized countries of North America and West Europe represent the largest coffee consumers.
In 2011/2012 marketing year the global output of coffee was estimated at above 134 million bags. It is expected to grow by over 8% to reach 146 million bags in 2012/2013 marketing year. World coffee exports in January-October 2012 exceeded 92 million bags, an increase by 4.7 million bags year-on-year. Kraft, Nestle and Sara Lee are top three coffee market players.
New market report package "Coffee - Global Markets Package" elaborated by Global Research & Data Services has been recently published by Market Publishers Ltd.
Report Package Details:
Title: Coffee - Global Markets Package
Published: January, 2013
Price: US$ 23,424.00
http://marketpublishers.com/report/soft_drinks/coffee/coffee-market-in-global-markets-package.html
The reports found in the package offer in-depth analyses of global coffee markets. The reports examine the current standing as well as possible developments of the coffee markets; present their comprehensive assessments on the basis of product type. Each research study covers market value, structure and shape, discloses export and import statistics, traces supply and demand dynamics; characterizes the major forces influencing the market, and reveals the prevailing market trends. Each research study delves into the competitive landscape, identifies leading market participants and indicates the most promising market sectors. Besides, it provides essential data on the overall economic situation in the respective country, including macroeconomic and doing business indicators. Furthermore, long-term and short-term forecasts for the coffee market are offered in each market review.
Product types reviewed in the report package: coffee (not decaffeinated, not roasted), coffee (decaffeinated, not roasted), coffee (not decaffeinated, roasted), coffee (decaffeinated, roasted) and coffee skins and husks.
Countries mentioned in the report package: Austria, Belgium, Bulgaria, Czech Republic, Estonia, Finland, France, Georgia, Germany, Greece, Hungary, Ireland, Italy, Latvia, Lithuania, Macedonia, Moldova, Netherlands, Norway, Poland, Portugal, Romania, Slovakia, Spain, Sweden, Turkey, Ukraine, United Kingdom, Armenia, Azerbaijan, Bangladesh, China, India, Indonesia, Iran, Japan, Jordan, Kazakhstan, Kyrgyzstan, Lebanon, Malaysia, Mongolia, Nepal, Oman, Pakistan, Philippines, Qatar, Singapore, South Korea, Sri Lanka, Thailand, Vietnam, Australia, Argentina, Bolivia, Canada, Chile, Colombia, Ecuador, Mexico, Panama, Peru, United States, Uruguay, Egypt, Ethiopia, Ghana, Kenya, Morocco, Rwanda, Senegal and Sudan.
More Market Research Report Packages by Global Research & Data Services Include:

Internal Combustion Engine Filters - Global Markets Package
Construction and Mining Machinery - Global Markets Package
Valves - Global Markets Package
Sewing Machines - Global Markets Package
More new market research report packages and separate reports by the publisher can be found at Global Research & Data Services page.