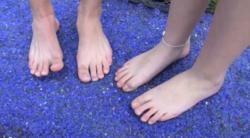 (PRWEB) January 31, 2013
Close the Loop, now one of Pennsylvania's first Benefit Corporations, is proud to reveal one of their newest products – Glass Mulch. Each year, over 41 billion glass containers are made, and only thirty percent of those go to recycling. With Close the Loop's Glass Mulch anyone can help alleviate the pressure from the planet, as well as ad a bit of sparkle to a person's landscaping.
The glass is recycled in a tumbler, thereby reducing the chance of cutting oneself on the edges, and allowing for a multitude of uses around the house. And because glass takes over 1,000 years to decompose people will be able to get the best use out of the product without having to generate any waste. It never fades or needs replacing, and is a unique alternative to traditional bark or gravel mulches.
It even works well in fire pits. In an era of extreme makeovers, there's no material more vibrant for dingy fireplaces and outdoor fire pits than glass. Glass replaces fire logs and cinders with a customizable array of colors. Natural gas fuel provides a consistent and clean-burning fuel with a flame temperature well below the softening or melting point of glass. Custom homes, restaurants, and resorts have all employed glass in this stunning and intriguing look.
Pulverizing glass makes a safe non-sharp product. It is smooth and safe on skin and tires. Glass sand is safer to use, being more lung and earth friendly than either Coal Slag or Silica Sand. It is made of glass bottles, and glass contains essentially no "free-silica", which greatly reduces the threat of silicosis. It contains no heavy metals, is inert environmentally, and the right answer where impact to the environment might be an issue. Made entirely from recycled post consumer glass. By using glass mulch you help keep America "green" by reducing landfill deposits. The town of Ocean City, Maryland, uses glass aggregate as the material in its asphalt base for roads.
With a dedication to helping preserve the environment, and a desire to help others who are also committed to this goal, Close the Loop was established in October, 2000. In addition to the glass mulch, other recycled products are made in USA from state-of-the-art recycling of plastic scrap and waste wood fiber are used as a non-wood alternative building material for the fencing and plastic lumber market including: recycled plastic fencing, posts, rails, vineyard poles, composite lumber. They also offer rubber mulch, rubber landscape timbers, rubber pavers and more.
Check out the glass mulch for yourself.
For more information, please visit http://www.closetheloop.com.