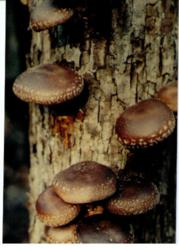 I get emails from customers who gave their logs names, like ' Bob' and 'Cindy.' More like pets and friends than just plants. I feel the same way. Doug Williams, Lost Creek Mushroom Farm
Perkins, OK (PRWEB) January 31, 2013
They start as little white buttons peeking through the bark of the log. These are "pins," the buds of shiitake mushrooms. By the end of the day, they look like little "outie" belly buttons. The next day, the pins take on a fallen-leaf brown tone. By the third day, they're standing up from the log, the shape of mushrooms, with their forest-brown caps closed and tight, tucked into the stems. They grow larger and the caps slowly open, with tiny white stars around the rim. Another day and the mushrooms are ready to pick.
Doug Williams has watched shiitakes bloom, or fruit, at Lost Creek Mushroom Farm for 25 years. "I'm still amazed at how they grow and keep growing, year after year. They're so beautiful. I love growing shiitakes."
Mushroom log kits will produce fresh, organic, high-quality shiitakes every two months, with increasingly larger yields, tapering off in the third and fourth years. "At first, they grow only a few mushrooms, but by the second year the log can be covered top to bottom with mushrooms."
Williams cuts the logs in winter when the sap is down, drills holes and injects them with seed material, called "spawn." This is the inoculation phase. He keeps the logs shaded and watered for eight months or more until the shiitake has grown through the whole log. This is the incubation phase.
The kits contain logs that Williams has nurtured and that he hand picks for their readiness to fruit. "We're a small mom and pop operation, and I know my logs -- when each one was inoculated and how far along it is in its cycle. Some grow faster than others. It's not the kind of wood," he explained, "it's more like their energy, their personalities."
Soaking the log in non-chlorinated ice water triggers the fruiting cycle. "We call that 'shocking' the log. In a few days the pins appear and in less than a week, you have mushrooms. It's a lot more fun than waiting 50 or 60 days to pick your first tomato."
"To grow mushrooms, shock the log, then let it rest for two months, with soaking every two weeks in non-chlorinated room-temperature water. Then shock it with ice-water, starting the fruiting again. It's easy."
In addition to the log, Lost Creek Mushroom Farm kits come with instructions and a recipe booklet. Logs 9-10 inches and up are fully guaranteed to fruit. Kits come in a choice of sizes: a 5-6 inch 'Shroomie for $18, a 10-inch Single Log Kit for $29.95; a 12-inch log for $36.95. The 14-inch log comes with its own tray for soaking, fruiting and resting for $45.95. All prices include shipping and handlng.
Two-log kits will give gardeners mushrooms every month instead of every two months. The Ma & Pa Kit, with two 9-10" logs sells for $49.95. The Best Buy is two 14" logs with trays shipped to the same address for $80.
Lost Creek Mushroom Farm donates a portion of sales to The Voice of the Mushroom Foundation and Mushrooms in Ghana Project, founded by Doug and his wife Sandra, after they volunteered as mushroom consultants in Ghana, West Africa in 2007.
Log kits are available online at http://www.shiitakemushroomlog.com and by phone at 1-800-792-0053; also on Amazon.com at slightly higher prices.