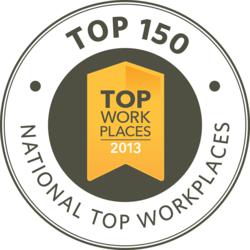 Our employees are our most valuable resource and we look for high achievers who want to win in the sport of business.
Bala Cynwyd, PA (PRWEB) January 31, 2013
Philadelphia Insurance Companies (PHLY) has been named one of America's Top Workplaces by Workplace Dynamics. The property/casualty and professional liability insurance carrier for niche business markets was ranked one of the top 150 companies nationwide among 872 organizations with 1,000 employees or more.
"Our employees are our most valuable resource and we look for high achievers who want to win in the sport of business," shared CEO & President Sean Sweeney. "In return, we strive to create a positive workplace that encourages employees to have fun and be their best."
Some of the fun at PHLY can be tied to the benefits and programs for employees. The Company just recognized one of its high performers by sending them on an all-expenses paid trip to Super Bowl XVIII. PHLY also has its own version of an "Undercover Boss" initiative where employees can volunteer to have the CEO job-shadow them for the day. In October of 2012, the Company opened a brand-new, state-of-the-art, 17,000 square foot health club in its Bala Cynwyd, PA headquarters which is free to all employees. Employees in offices across the country can take advantage of gym membership reimbursements and an extra 15 minutes at lunch for exercise. Other benefits include an employee referral program, employee tuition assistance, and opportunities for community involvement. Philadelphia Insurance and its employees commemorated the Company's 50th anniversary last year by raising more than $400,000 for Ronald McDonald House Charities.
"A significant part of our culture is tied to giving back to the communities where we live and work. All employees receive one paid day a year to volunteer during work hours," said Sweeney. "Our employees have fun attacking fundraising goals as aggressively as they tackle their professional goals. It is always gratifying to watch them respond by helping people in need locally, nationally and around the world."
Philadelphia Insurance has received a dozen other workplace awards over the last six years. For the last three years, PHLY has been named a Top Workplace by the Philadelphia Inquirer/Philadelphia Daily News and one of the Best Places to Work in Insurance by Business Insurance Magazine and Best Companies Group.
The National Top Workplaces list was determined solely by feedback gathered through an objective employee survey. The full list can be viewed at http://www.topworkplaces.com.
About Philadelphia Insurance:
Philadelphia Insurance Companies designs, markets, and underwrites commercial property/casualty and professional liability insurance products incorporating value added coverages and services for select industries. In operation since 1962, the Company, whose commercial lines insurance subsidiaries are rated "A++" (Superior) by A.M. Best Company and "A+" for counterparty credit and financial strength by Standard & Poor's, is nationally recognized as a member of Ward's Top 50 and National Underwriter's Top 100. The organization has 45 offices strategically located across the United States to provide superior service. For more information, please visit http://www.PHLY.com.
About WorkplaceDynamics:
Founded in 2006, WorkplaceDynamics is the fastest-growing employee survey provider in the United States. Based on their "on-demand" employee survey, last year they surveyed more than 5,000 organizations, polled 1.7 million people and handled over a million employee responses.
About the Survey:
The Top Workplaces program accurately reflects the opinions of employees through measurement of engagement, organizational health and employee satisfaction. The survey is utilized year after year by human resource professionals and C-suite executives nationwide as the gold standard in internal measurement of organizational health and employee satisfaction. Details can be found at http://www.topworkplaces.com.