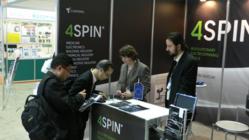 On the one hand, 4SPIN® can deal with filtration or environmental applications, and on the other it is perfectly poised to handle nanofiber materials for medicine, electronics, and other areas
Tokyo (PRWEB) January 31, 2013
The gates of the exhibition Nano Tech 2013 in Tokyo are wide open. One of the exhibitors, representing nanotechnology innovations from the Czech Republic, is Contipro Biotech, which is presenting the world premiere of its new device for the production of nanofibers, called 4SPIN®. The device is intended for the production of nanofibers suitable for use both in industry and medicine.
"Contipro is registering its first success. We are a new player in the field of nanotechnology, so although we didn't expect the world to stand agape in awe before us, there is a lot of interest not only among Japanese companies, but also among the Canadians, Taiwanese, Thais and Koreans. Many of them have sought out our stand at this huge exhibition specifically because of the information in the exhibition catalogs about the specifications of our device," says Zuzana Bubnova, Contipro executive director.
"What distinguishes 4SPIN® from other devices on the market is its ability to produce nanofibers from a wide range of materials. This device is not limited to one discipline or industrial area. On the one hand, 4SPIN® can deal with filtration or environmental applications, and on the other it is perfectly poised to handle nanofiber materials for medicine, electronics, and other areas," says Marek Pokorny, head of the device development team, as he explains the advantages.
"It was not our original intention to develop a new device. But the market lacked equipment which can create perfectly aligned nanofibers from the human's body own substances. And because we wanted to develop new medical applications, we had to create such a device ourselves. Ultimately, we can offer this apparatus to other innovative companies and universities and prepare a pilot version of the machine that will be able to deliver the results of nanofiber research to the market," says Dr Pokorny.
The exhibition in Tokyo will last until tomorrow. According to Contipro representatives it's too soon to draw conclusions. Other exhibitions in the US and Germany will give a more rounded idea of the trend, but the future of this new electrospinning device seems to be promising.