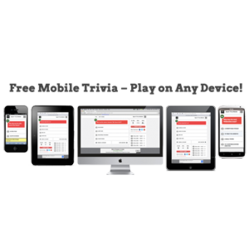 ...there's no need to download an app, fill-out a form, or pay any money -- you simply go to the game page and start having fun.
Fort Collins, CO (PRWEB) January 31, 2013
Spark Trivia is a recently launched internet trivia game geared towards customers who are waiting in restaurants, doctor's offices, and similar locations. The game serves to keep customers content in all situations and gives businesses the opportunity to advertise their brand through on-page ads, game customizations, and more.
The game presents players with random questions, or they can choose to play from specific categories, which range from food, to science, to music, and more. The game keeps track of how well players perform and shows a running total of the number of questions they answer correctly, how many they get right in a row, and their overall grade (A through F). Players can integrate the game with social media by sharing their results using the provided Facebook and Twitter buttons (Google+ coming soon) and challenging their friends to beat their score.
The full game is free for everyone, works on any device, and players need only visit the game's website to get started right away. Spark Trivia is making it easy for businesses to inform their customers about the game by supplying free table cards, which display the game's URL, associated QR code, and encourages patrons to play.
According to Spark Trivia co-founder Rob Benson, the game is intended to be easy and enjoyable for everyone.
"We didn't want to create any hurdles to people playing or businesses using the game. As such, there's no need to download an app, fill-out a form, or pay any money -- you simply go to the game page and start having fun."
Spark Trivia owners say the game is helpful to businesses because it gives customers something to do other than wait and wonder when their food is coming or when their name will be called.
Jim Benson, Spark Trivia's other co-founder and Rob Benson's father, said, "It's well known that happy customers make for satisfied customers, and our game is just one way businesses can create a pleasant experience for their guests. And those who leave businesses with a favorable impression are more likely to return and tell their friends about the brand."
In addition to providing businesses with the opportunity to enhance their customer's experiences, Spark Trivia offers other perks to businesses that choose to pay for the platinum service. The platinum service allows for unlimited custom ads, which a business can use for itself or sell to other local establishments, as well as other customization features, including a unique URL, specialized branding (game will have business' name at the top of page), brand-specific table cards, and more.
"We feel Spark Trivia provides an exciting new way for business to advertise," said Rob Benson. "With our platinum service, businesses decide what ads they want to display at the bottom of the game screen, which means they can promote their own business, post the daily specials, or even rent the space to a different advertiser. Also, when players share the game with their friends through social media, the business' name and brand is introduced to an entirely new group of people who may become future customers."
Spark Trivia is a responsively designed website built by Spark Logix Studios, which allows it to render optimally on any gadget, and players with an internet-ready device and access to the internet can play the game anywhere.
Spark Trivia owners are currently introducing their product to Fort Collins restaurants, but the game is currently available for businesses and players nationwide. Businesses who would like more information about using the game in their establishment can visit business.sparktrivia.com or contact Spark Trivia directly.