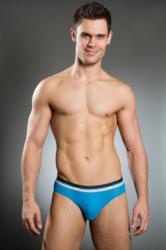 The website is known for giving men a huge and constantly changing choice in seasonal fashion designs but this spring the offer is especially cheerful
(PRWEB UK) 31 January 2013
A flurry of bright colours and glorious patterns has been released by men's underwear brands for the new season, ensuring this will be one of the brightest springs ever in this successful niche market for briefs and boxers, say undies aficionados Deadgoodundies.com.
Online men's underwear and swimwear specialists Deadgoodundies predict a shift in buying patterns thanks to upbeat colour palettes in new collections launched at the start of this year. Deadgoodundies has launched the first colourful releases for the spring season - and they're being snapped up fast.
The website is known for giving men a huge and constantly changing choice in seasonal fashion designs but this spring the offer is especially cheerful, says DGU co-founder Jane Garner.
"Many men do buy only white, black or grey briefs and boxers, but fashion conscious buyers are investing more in colourful alternatives too. Some of our customers only ever want colours, which is why our fast stock turnover is so important. We have new styles arriving every week," she says.
Jane sums up the season's hottest properties: "Pink is in, red is racing ahead, blues and greens are bright and refreshing. We have in the past been wary of shades of orange, but this spring's orange tones are chic rather than in-your-face bold.
"Brands are working a handful of key colour combinations very effectively too - watch out for red and blue, or the classic red-white-blue trio with a twist, and really summery green-with-blue balances too."
Several top selling brands on Deadgoodundies.com are already known for their colour contributions and Jane notes particularly Bruno Banani, Ergowear, Big Boys, Clever Moda, HOM - especially their latest sports underwear styles, and Jockey, which might be regarded as a conservative brand. "Their latest red is brilliant and very wearable," says Jane. "And our newest brand, Skiny, has a brilliant selection of colours in their first collection on DGU."
Company Information
Deadgoodundies is an online only retailer stocking the best in designer men's underwear and swimwear from all over the world including: (in alphabetical order) Big Boys, Body Art, Bruno Banani, Bum-Chums, Clever Moda, Doreanse, Ergowear, Gigo, Gregg Homme, HOM, James Tudor, Jockey, Joe Snyder, MaleBasics, MANstore, Mey Bodywear, Mundo Unico, Nils Bohner, Obviously For Men, Olaf Benz, Pikante, PUMA, Skiny, Sloggi, Solar TanThru and Zoggs. DGU also stock selected loungewear, socks, T-shirts and more from their best selling brands.
DGU are incredibly media friendly and always have high res images on hand for fashion pages and samples for photo shoots as well as expert comment and market insight from partners Adam and Jane.
For more information contact DGU PR Jane on 01743 271615 (international +44 1743 271615) or email pr(at)deadgoodundies(dot)com