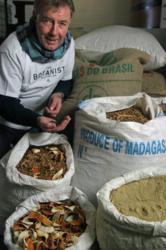 "I had to learn a an all-new dance with Ugly Betty - it lasted seventeen hours" - Jim McEwan, Master Distiller, Bruichladdich
(PRWEB UK) 31 January 2013
It is an experience unique to Bruichladdich Distillery on the remote island of Islay. Almost a tonne of tropical peels, potions and powders filling the air with their gloriously unexpected aromas. Seeping forth from sacks and sacks of orris root and liquorice, orange peel and cinnamon, cassia bark and coriander, it is quite a contrast to the scents of windswept hills, peat bogs and Atlantic shores that characterise Hebridean winters. And yet these are just some of the exotic components shipped in from the global village to combine with an altogether more delicate palette – an aromatic selection of Islay's own delightful botanicals, lovingly collected by local botanists during the gentler summer months and carefully dried to play their part in the distillation of a remarkable gin.
Called, 'The Botanist', the gin is the creation of Master distiller Jim McEwan who 'dances' with his specially modified Lomond still for seventeen hours a time. The rather elderly and somewhat inelegant vessel known as 'Ugly Betty' simmers at very low pressure and will not be rushed. This truly is a hand-crafted testament to artisanal distillation.
The end result is quite something – an exotic cocktail with an uplifting Hebridean nose of water mint, heather, sweet gale and juniper compliments the deliciously tropical backdrop. It produces a highly distinctive, complex, and floral gin that can be savoured neat, or with a favourite tonic and garnish.