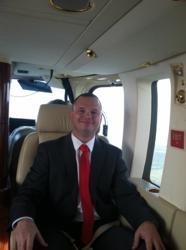 Roger Bryan will be holding the ultimate event for entrepreneurs to learn about marketing, "Sales and Marketing for Smart People"
(PRWEB) January 31, 2013
Leading business author, public speaker and business coach, Roger Bryan of the business consulting firm, RCBryan & Associates, has announced a new sales event for successful entrepreneurs looking to grow their business. The accomplished business coach will be hosting an event titled "Sales and Marketing for Smart People," for entrepreneurs looking for real advice from real business coaches on how to take their business to the next level.
Roger Bryan will not only be leading the development of this marketing conference and helping to pair some of the top business coaches and mentors in the field with a pool of eager entrepreneurs, but he will also be the headline speaker at the event. At the event, Bryan will be delivering audiences with a great deal of the same coaching expertise delivered at the highly successful Mega Partnering V Conference. The event, which is the world's number one wealth networking conference, Bryan worked with successful business icons such as Eric Trump, Kathy Ireland, Steve Wozniak and Brett Michaels to help the top entrepreneurs from around the world explore new ways to do business. At the event Bryan was showcased as a top internet marketing and business coach and motivated an audience of more than 800 entrepreneurs with his professional insight on marketing strategies today.
Bryan will be using this information along with new insight from his latest published work on social branding; to help conference attendees realize the important of business coaching and to get new ideas on how to help their company and their brand grow.
More information on Roger Bryan and his professional business coaching, consulting and marketing services can be found at rcbryan.com.
About Roger Bryan:
Roger Bryan is a business author, speaker, business coach and serial entrepreneur. In addition to starting several multi-million dollar companies; he offers professional business coaching services aimed to help startups and established businesses alike find success in today's market. His first-hand experience in these areas has placed many of Roger Bryan's companies on the Inc. Magazine list of fastest growing companies in America.
To find out more about the Sales and Marketing For Smart People event and when it will be coming to a city near you, visit: http://megapartnering.com/smartpeople/