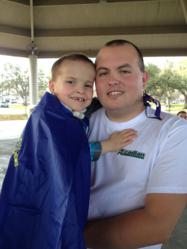 What started with a box of crayons has snowballed into an outpouring of support and gratitude for a very, very special little boy.
(PRWEB) January 31, 2013
Gavin Beard is getting every kid's wish—a weeklong trip to Disney World—and it all began with a serendipitous hospital transport that occurred last August, which created a ripple effect of support within the community.
Acadian Ambulance medic Justin Tabor and his partner, Daislynn Kimball, picked up Gavin for an interhospital transfer from Thibodaux Regional Medical Center to Children's Hospital of New Orleans. Upon their arrival they were greeted by Gavin, an enthusiastic and vibrant little boy. Born six weeks premature with numerous birth defects—esophageal atresia, scoliosis, limb abnormality and cardiovascular anomalies—Gavin has coded over a dozen times and has already outlived his life expectancy.
The hospital staff had given Gavin coloring sheets for the transport, and he exclaimed to the medics that he was Captain Crayola and needed some colors. Acknowledging that the transport would be a long ride, especially for a distressed and sick child, Tabor and his partner decided to make a quick stop at a nearby store to purchase a box of crayons.
Tabor was immediately impressed with Gavin's positive attitude, and the two struck up an instant friendship. In fact, Tabor has contacted the Make-A-Wish America foundation to try to help Gavin meet his idols: Scotty McCreery, Jason Aldean and Lady Antebellum. He also contacted Crayola, and they were so moved with the story of "Captain Crayola" that they sent a care package full of their new products to Gavin for Christmas.
The duo's story was posted on Acadian's intranet, an interactive message board that connects all 3,800 Acadian employees. Terry Arceneaux, vice president of operations, saw it and immediately wanted to help.
"My son, Brett Arceneaux, co-founded a foundation called The Blake McKay Fight for Life," stated Arceneaux. "Their mission is to assist children who have been diagnosed with a life threatening illness, and I knew this would be a great fit."
Arceneaux's son was immediately on board, and enough money was successfully raised by the foundation to send Gavin and his family on a weeklong trip to Disney World.
Tabor also began a small campaign to raise money to help buy some essential necessities for Gavin's family home. With a Facebook page set up and a goal of $800, Justin was overwhelmed by the outpouring of donations and support that have since exceeded $4,000.
Armed with an abundance of gifts ranging from a new bunk bed to a motorized Chevy truck to a brand new washer and dryer, the community of Thibodaux came together on Saturday, January 26th to surprise Gavin and his family with the donations.
"Gavin may be Captain Crayola, but Justin is Captain Wow to me," said Gavin's mother, Misty Rodgers. "I couldn't imagine our life without him; he is truly an angel on earth."
"A lot of people look past the small things and don't realize what could be the big effect at the end," stated Tabor. "What started with a box of crayons has snowballed into an outpouring of support and gratitude for a very, very special little boy."
To see a video of the event, click here.
If you are interested in donating to The Blake McKay Fight for Life Foundation please visit http://www.blakesfight.org.
Acadian Ambulance is committed to their patients and their communities. They are an emergency and non-emergency medical transportation provider to Louisiana, Texas, and Mississippi.
Since 1971, Acadian has provided the highest level of emergency medical care and transportation possible. In the past decade, the company has expanded to include a diverse suite of services in health, safety, and transportation. Acadian's six divisions are Acadian Ambulance Service, Acadian Monitoring Services, Air Med, Executive Aircraft Charter Service, National EMS Academy and Safety Management Systems.
###