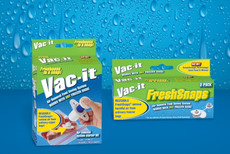 Through my interactions with the team from day one it was clear they wanted our business to be successful and were asking the right questions
(PRWEB) January 31, 2013
Adeptiv Solutions, the leading provider of order fulfillment and call center services, announced Widgeteer Inc., an innovator of new products for in and around the home, selected them to provide order fulfillment for their new e-commerce initiative.
Widgeteer Inc. recently launched a new e-commerce site, http://www.widgeteerinc.com, to provide a broad selection of products for in and around the home. Currently, their Vac-it Air Removal Food Saving System is available and their growth plans include adding hundreds of new products mainly focused around the house wares market.
"In my search for experts in e-commerce order fulfillment, I wanted to select a company that was responsive to my needs, quick to market and brand oriented," said Bill McHenry, CEO of Widgeteer Inc. "Through my interactions with the team from day one it was clear they wanted our business to be successful and were asking the right questions."
"While Widgeteer had a tight time line to implement their program, we were able to successfully complete the integration within the deadline," said David Ellin, Vice President of Adeptiv Solutions. "Our OPTIMIZE™ process really streamlines the integration yet ensures all the right details are discussed to ensure a successful experience for all parties involved."
Through selecting Adeptiv Solutions as their provider, Widgeteerinc.com is ensured that each order is shipped accurately and timely and that their business can scale easily as it grows. In addition, Adeptiv's OPTMIZE™ process will ensure that partnership will prosper through continual innovation and improvement.
About Widgeteer Inc.
Widgeteer is a product company that specializes in innovative new products for in and around the home. Currently, Widgeteer's family of brands includes Vac-it, an air removal seal system for freezer bags. To learn more about Widgeteer's business, please contact Bill McHenry at bmchenry(at)widgeteerinc(dot)com or 847.462.8938.
About Adeptiv Solutions
Adeptiv Solutions is the leading provider of outsourced order fulfillment and customer care solutions to e-commerce companies, retailers and manufacturers. Built on cutting edge technology and a focus on OPTIMIZING our customers brand and business, we build our customers loyalty by maximizing every customer touch point. To learn more about how we can help your business contact David Ellin toll free at 855.233.7801 or visit http://www.adeptivsolutions.com.