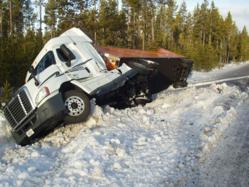 Auto drivers have a right to expect that truck drivers and the trucking companies are always acting with the safety of others in mind.
Portland, OR (PRWEB) January 31, 2013
All of the following stories have been reported on local Portland news stations. On January 24th, a truck driver lost control of his vehicle on Highway 58 and jackknifed before rolling off the road ("Trucks slip and slide on icy Central Oregon highway"). On January 28th, a commercial truck slid across the centerline on Highway 20 and collided with a Ford Focus, injuring two occupants ("Commercial truck driver arrested after hit-and-run injury crash at Santiam Pass"). All of this happened after a tractor-trailer fatality earlier in the month ("Medford man dies in Southern Oregon traffic accident"). All of these crashes brought truck safety issues to the attention of Oregon truck accident attorneys throughout the state.
While all of these articles suggest that icy road conditions may have been a factor in the crashes, it is also true that drivers need to be aware of the dangers that trucks pose on our roads.
"There's obviously a problem here. Whether it's the training the drivers receive, the expectations of the trucking companies for speed, or the lack of truck-safe highways, the problem needs to be addressed – and soon," says Oregon truck accident attorney Sean DuBois of Shulman DuBois LLC in Portland. "Because of their size, trucks are much more likely to cause fatalities when they crash. Auto drivers have a right to expect that truck drivers and the trucking companies are always acting with the safety of others in mind."
Some of the major problems involved in ensuring safe truck driving include:

Monitoring the health and sleep of drivers
Monitoring the Hours of Service
The weight and size of the trucks and their loads
Driver training
Consequences for not following traffic laws
Truck repair and maintenance inspections
Industry regulation of insurance, licensing, and data reports
Although not all of these recent truck accidents resulted in fatalities, it's important to look at statistics about trucks and recognize the dangers. For example, according to the Insurance Institute of Highway Safety's 2006 survey, 21% of truck drivers admitted to falling asleep at the wheel.
Because of the history of traffic law and hours of service violations in the trucking industry, Shulman DuBois LLC is now accepting truck accidents cases for Oregon injury victims.
"Civil litigation is meant to protect consumers when the law is not enough – sometimes the threat of large settlements speaks louder than the threat of small fines," DuBois said.
Sean DuBois is an experienced Oregon truck accident attorney who has seen how Oregonians have suffered after truck collisions, and he is determined to make sure these victims are aware of their rights. To help people understand the personal injury process, DuBois has co-written the book 7 Common Mistakes That Can Wreck Your Oregon Accident Case with his law office partner Joshua Shulman. Anyone interested in ordering the book can visit freeoregonaccidentbooks.com or call Shulman DuBois LLC at 503-222-4411.
About Shulman DuBois LLC:
The Oregon truck accident injury law firm of Shulman DuBois LLC, is based in SE Portland, OR. Partners Joshua Shulman and Sean DuBois specialize in auto accidents, including injuries from trucks, cars, and motorcycles as well as bicycle accidents, pedestrian accidents, and wrongful death cases. For a free consultation, call 503-222-4411 or contact us at http://www.portlandpersonalinjuryaccidentlawyer.com.