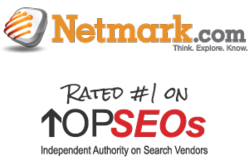 Idaho Falls, ID (PRWEB) January 31, 2013
Netmark pushes the limits of traditional marketing by being able to use information that is available publicly, information shared between different social media websites, and user search behavior, to use software developed to target specific demographics with specific ads. This brings greater awareness to targeted branding, among other direct marketing successes. Netmark focuses on specific demographics to deliver marketing efforts, which in turn increase conversion rates of visitors while reducing bounce rate. Conversion rate, bounce rate, and how websites are able to engage audience are all critical factors in a website's general ranking in the Google algorithm, but also on a company's bottom line. This gives Netmark the ability to bolster any companies competitive marketing edge.
In an age of voluntary sharing of information, including private information such as location, age, gender, and interests, the company that has the most information about potential clients should deliver the strongest and most direct marketing to the audience. Facebook, the largest and most successful social media company, is completely inept in their marketing efforts. Everyday people post pictures, identify contacts, mark their location, and even post their thoughts, their feelings, and life events voluntarily on Facebook. Netmark finds success where Facebook fails. Through the use of innovative technology, custom software, and marketing knowledge, Netmark can bring success to sponsors where Facebook has failed. This is accomplished through the software that has been developed and is currently in development.
On such innovation is measure stock performance of any given companies, such as potential competitors, in relation to Pay-Per-Click price. Using not only the financial information available, but also targeting in on the volatility of the stock and Pay-Per-Click price, Netmark can more accurately predict budgeting costs and gains in the Pay-Per-Click industry. Additionally, using demographic information, Netmark is able to run campaigns targeting specific keywords and terms that draw the most attention and traffic from search engine users. Knowing what people are looking for and how they are looking for it allows for complete customization of products, at the right price, that people are willing and able to buy.
Demographic targeted advertising also gives further insight into what people are interested in and what they are looking for in regards to products and services. Using this information, potential clients become targeted to relative ads that they are likely to purchase. Targeting specific demographics also opens brand awareness which directly impacts the visibility and ultimately success of any online internet business and profitability. Businesses become more efficient at marketing their products or services, and users are exposed to less spam, as such, both groups have a better experience with e-commerce and shopping online.
Netmark was founded in 2007 in South Eastern Idaho. Chad Heath, the president and founder of Netmark and a pioneer of internet e-commerce and marketing, has worked in internet marketing for over a decade, with hands-on experience with Pay-Per-Click Management and Search Engine Optimization. Josh Dalton, the CEO of Netmark, advances innovative software while developing techniques to push Netmark to new heights. Netmark is rated as the Best SEO Company by the independent authority on internet marketing, topseos.com.