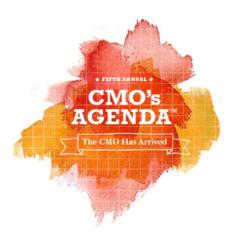 CMOs have taken control of their destiny, and they've done so by capitalizing on the data and analytics that fuel business growth
Durham, NC (PRWEB) January 31, 2013
It's a pivotal moment for CMOs. After five years of tracking the lead marketer through qualitative research, this year's CMO's Agenda™ yielded a revelatory conclusion: the CMO has arrived.
The 5th Annual CMO's Agenda—released by CMG Partners, a strategic marketing consultancy—features insights and experiences from more than 50 CMOs at leading brands including Target, MasterCard, Adobe, Heineken, The North Face, K12 and Best Buy.
The findings reveal a redefined, modernized role for marketing led by smart, savvy, accountable CMOs who have evolved their role in the organization and the c-suite to its rightful position: leading and driving corporate growth.
"CMOs have taken control of their destiny, and they've done so by capitalizing on the data and analytics that fuel business growth," Rich Beatty, CMG Partners' founding partner explained. "Most importantly, they have taken a stance that marketing should be accountable for growth."
"When we started studying the CMO role five years ago, we knew significant changes in the world were occurring, but we couldn't have predicted that we would witness the arrival of a new era for chief marketing officers," Beatty said.
How did CMOs lead this movement to modernize marketing and redefine their role? The Fifth Annual CMO's Agenda, "The CMO Has Arrived," identifies the major contributors of this evolution and reveals what CMOs believe is the key to long-term success for the marketing organization and the CMO position.
CMOs Are Blending the Art and Science of Marketing to Fuel Growth
CMOs believe the science and art of marketing are both essential, and when combined, are the foundation for growth. Today, data and analytics are critical to decision-making and optimization but many CMOs believe the science is really only as good as the art — or the ability to ask the right questions, extract meaningful insights and create new ideas. Finding the right balance between science and art was a common challenge among CMOs in the study; most believed marketing organizations that strike this balance achieve the greatest returns. To attain this highly coveted balance, CMOs are redefining what marketing means in their organization and restructuring on this foundation. To take advantage of powerful data and analytics, CMOs are investing in their science capabilities, not just new tools and technologies, but infrastructure and people. Some are even overhauling their department.
CMOs Are Demanding Accountability and Delivering Results
CMOs are redefining marketing by proving it can be a business engine that drives revenue -- not a cost-center. This has been possible as CMOs increase their ability to measure and drive change, tying marketing to business results better than ever before. As CMOs translate marketing's impact on business performance and demonstrate the ability of marketing departments to generate revenue, they have earned C-suite accountability, putting them right where they want—the hot seat for growth.
CMOs Are Embracing Agility as the New Reality
CMOs agreed: change is truly the one constant, making agility key to success. Marketing has transformed dramatically in the last few years and the evolution will undoubtedly continue. This means CMOs must become more focused, fast and flexible. The computer software industry has long organized and operated around the Agile discipline. Viewing agility as the new reality for modern marketing, CMG Partners outlines four essential Agile principles that have direct application for marketing, explaining that agility is not just for the CMO, but is the new standard for how successful marketing organizations must operate.
About CMG Partners
The first consultancy of its kind, CMG Partners was founded on a simple certainty: strategic marketing is essential to business growth. Fifteen years later, CMG Partners remains at the forefront of its field, providing services that drive demand, engage customers, optimize marketing organizations, build brands and more.
Highly sought-after by lead marketers, CMG Partners helps its clients—a cross-section of FORTUNE 1,000s, budding middle-market corporations and start-ups—create and sustain top-line growth.
Each year, CMG Partners publishes extensive research as part of an ongoing study of the lead marketer role in The CMO's Agenda™. In its fifth year, 180 CMOs have been interviewed and the study continues to help prepare CMOs for "what's next" in their role and stay ahead of an ever-changing market.
With nearly 50 consultants nationwide, CMG Partners is a Durham, North Carolina based company, privately held since 1998. For more information on CMG Partners, please visit cmgpartners.com.