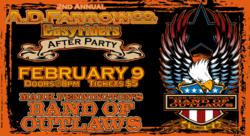 (PRWEB) January 31, 2013
A.D. Farrow Co. Harley-Davidson has teamed up with Easyriders and Bluestone to put on the 2nd Annual Official After Party on Saturday, February 10th, 2013. The party will kick-off at 8pm with live music and will feature Mark Pennington's Band of Outlaws.
A.D. Farrow Co. will be featured at the Easyriders Bike Show Tour at the Columbus Convention Center. America's Oldest Harley-Dealer has arranged for 60 feet of booth space in order to facilitate the numerous activities that will be taking place at the booth.
The company will be taking over $40,000 in merchandise to the show in order to allow the tens of thousands of attendees to buy shirts from America's Oldest Harley-Dealer. The booth will also feature interactive displays from the company's Parts and Accessories Department, a Rider's Edge Instructor, and appearances by motorcycling celebrities. The company plans to announce their 2013 year event plans and launch their "MSRP is what you pay, VALUE is what you get" campaign. A.D. Farrow Co. is encouraging attendees to stop by the booth to pick up an event calendar and additional information about 2013 plans.
Guests of A.D. Farrow will also be attending the show to promote rides taking place in central Ohio this upcoming riding season. Members of the A.D. Farrow Co. Family will also be informing the riding community about Dealer Principal, Bob Althoff's Lifetime Achievement Award. Althoff will be presented with the Don J. Brown Lifetime Achievement Award the following weekend at the 2013 Top 100 Dealer Awards Gala, Feb, 15th in Indianapolis.
America's Oldest Harley Dealer will turn 101 on February 26th, 2013.