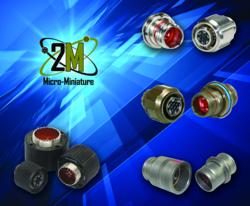 Sidney, N.Y. (PRWEB) January 31, 2013
Amphenol Aerospace, a global leader in interconnect technologies, has enhanced its 2M Series connectors for interconnect applications that require high performance. These upgraded micro-miniature connectors are 71% lighter, 52% smaller and have 60% more contact density than other connectors in their class.
Designed and tested to Mil-Spec standards and comparable to MIL-DTL-38999 connectors, the 2M Series connectors are intermateable and intermountable with existing micro-miniature aerospace/defense connectors. These lightweight, high density connectors maximize SWaP (size, weight and power) in a variety of high-reliability, harsh environments.
Amphenol's versatile 2M Series features 40 insert patterns including mix contact arrangement, multiple termination styles, high speed, filter, EMI/ESD and hermetic solutions. Application-specific customized solutions are also available.
The enhanced connectors feature four coupling styles. Each of the styles combines more than 40 years of Amphenol design and expertise, offering superior anti-decoupling on every connector as well as withstanding up to 44 g's of random vibration and 300 g's of shock on 2M801 and 2M805 Series.
The fast-mating 2M801 Dual-Start ACME thread connector features an innovative Dualok plug that exceeds MIL-DTL-38999 vibration levels and offers the highest coupling torque available in the micro-miniature connector market. The 2M803 features a 1/4 turn bayonet coupling for quick mating in general avionics and weaponry applications.
For breakaway applications, like soldier-worn equipment, the 2M804's push-pull coupling offers a quick disconnect. The tri-start ACME thread-style 2M805 uses an anti-decoupling ratchet for exceptionally secure mating.
The rugged, micro-miniature 2M Series connectors are available in aluminum and stainless steel with various corrosion resistant platings including stainless steel/passivated, non-conductive aluminum/black anodize and aluminum/electroless nickel, aluminum/zinc-nickel with black chromate or olive drab. The 2M Series also offers Durmalon aluminum/nickel-PTFE plating, the only mil-qualified RoHS-compliant plating in the industry.
The full line of complementary accessories for Amphenol's 2M Series includes protection caps and strain relief, EMI and environmental back shells, flange gaskets, hex nuts, O-rings and heat shrink boots as well as value-added braided and overmolded cable assemblies.
Most connectors are available in 48 hours.
For more information, please visit http://www.amphenol-aerospace.com/2m.asp or e-mail scurtis(at)amphenol-aao.com.
High res download and full text:
http://www.simongroup.com/PressRoom/press-release.php?Job=AAO-A-25004
-30-
UPCOMING TRADESHOW: AUSA Winter Symposium & Exposition, Fort Lauderdale, FL, Feb 20-22, Booth #2022
READER SERVICE INQUIRIES: Please forward all reader service inquiries to Shannon Curtis at Amphenol Aerospace, Amphenol Corporation, 40-60 Delaware Ave, Sidney, N.Y., 13838-1395; e-mail: scurtis(at)amphenol-aao.com
EDITOR'S NOTE:
Amphenol Aerospace Operations (AAO) is one of the largest developers of interconnection technologies for the military and commercial aerospace industries. Amphenol Aerospace Operations (AAO) provides OEMs worldwide with rugged, high quality products that withstand the harshest environments.
In addition to its wide variety of connectors for specialty applications, the company offers an extensive line of standard cylindrical and rectangular, electronic, board level, fiber optic, EMI/EMP connectors as well as PCBs, backplanes, flex and rigid flex circuits and integrated systems.
AAO is headquartered in Sidney, N.Y. with other facilities located in New Hampshire, Toronto, Mexico and China. The 675,000 foot Sidney facility is home to a fully equipped material evaluation lab as well as extensive engineering resources utilizing the latest in computer aided design software and analysis tools for product testing and qualification.
AAO is a division of Amphenol Corporation, Wallingford, CT; one of the largest manufacturers of interconnect products in the world, with year 2012 sales topping $4 billion.