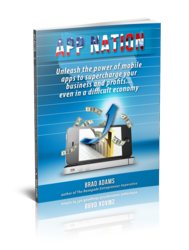 The mobile app has become the Holy Grail of branding, the most direct contact you can have with a customer outside your place of business.
Temecula, California (PRWEB) January 31, 2013
California-based (un)consulting firm Renegade Entrepreneur Group has announced the publication of APP NATION, a book that explores the hows and whys of using mobile apps in business. Written by successful serial entrepreneur Brad Adams, APP NATION offers a look into today's consumer and provides hard-hitting evidence of mobile apps' being the future of any size business.
Far from being a mere info dump on how the fundamental app-driven shift in consumer behavior has revolutionized the world of sales, APP NATION takes the topic paces further.
APP NATION shows how vital it is that the modern business become familiar with, and learn to operate within, the confines of the mobile world. It explains why the number of companies that can survive for long without mobile apps are few and far between. It presents compelling arguments in favor of the use of apps built around a business's specific needs. It delves into ways by which the entrepreneur can adapt his or her mobile strategy to a changing business climate. All this is in line with Renegade Entrepreneur's commitment to re-tooling the entrepreneur's approach.
Adams's hope in writing and releasing this book is to equip business owners with all the information they need to "supercharge [their] business and profits even in a difficult economy." While APP NATION is by no means a definitive guide to all things app-related, it covers more than enough ground in ten comprehensive chapters. And it addresses the specific questions of small business owners looking to get into the game.
With more and more businesses headed in a mobile direction, APP NATION stands to be a powerful tool in the entrepreneur's arsenal. There remains much to learn and be said about the big picture for mobile apps and their ultimate role in future-proofing businesses, but for entrepreneurs who want a head start, APP NATION might just be the springboard they've been looking for.
APP NATION is available in softcover and kindle through Amazon.com. Further information is available at https://www.facebook.com/appnation1
About Renegade Entrepreneur Group
Headquartered in Temecula, California, Renegade Entrepreneur is a practice built around what company insiders term unconsulting. It is a group spearheaded by President and CEO Brad Adams, an entrepreneur dedicated to arming business owners with the tried-and-tested inside strategies and systems of highly successful companies. Renegade Entrepreneur has recently launched APP NATION, a book about leveraging mobile apps for a competitive advantage.
To learn more about Renegade Entrepreneur Group, go to http://www.renegadeentrepreneurgroup.com or visit the company's Facebook page at https://www.facebook.com/entrepreneurgroup.