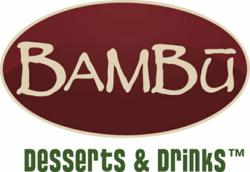 Sacramento, California (PRWEB) January 31, 2013
Bambu Desserts & Drinks, the renowned San Francisco Bay Area Vietnamese desserts and drinks chain, announces the grand opening of its Rocklin shoppe. "We are extremely excited about opening our second Bambu in the Sacramento area," said Julie Nguyen, co-founder of Bambu Desserts & Drinks, Inc. "Our first store was an incredible success."
Bambu-Rocklin is located in the Sunset Pointe Plaza at 1240 Sunset Boulevard, Rocklin, California 95677. Their grand opening celebration is scheduled to start at 8:00 am on Tuesday, February 5th with a formal ribbon cutting ceremony at 4:00 pm. Entire families of all ages are welcome to this kick-off and enjoy $3.00 drink promotions for the entire month of February. "My sisters and I started Bambu to create desserts and drinks that friends and family would enjoy," continued Julie.
"We wanted to start a business that we believed in and felt passionate about," said Kevin Chao, co-owner of Bambu Rocklin. "We really love Bambu desserts and drinks. We regularly drove down to San Jose or Sacramento when we were craving one."
This newest Bambu will be located in Sunset Pointe, part of the Roseville/Rocklin trade area with easy access to Hwy 65 and Interstate 80. Built in the Spring of 2010, this center is a popular plaza that caters to surrounding commercial, industrial, office and residential market.
"Bambu is known for their fresh and healthy desserts and drinks," said Calisa Au-Yueng, co-owner of Bambu Rocklin. "Since Rocklin is an active family community with abundant recreational opportunities, we knew that this would be a perfect opportunity for us to share the Bambu experience. We are ready and excited for our grand opening."
Bambu Desserts & Drinks was founded in 2008 by four sisters in San Jose, California. With fourteen new shops opening in less than two years, customers love Bambu for their incredible customer service and fresh, healthy and colorful Vietnamese-inspired Chè, unique milk teas, Vietnamese espressos, blended coffees, and exotic smoothies. Their menu has nearly 100 desserts, coffees, teas and drinks to select from, but you can order any item "just the way you love it" at no extra charge including extra jellies, pearls, or shots of espresso. For more information on Bambu visit http://www.drinkbambu.com.