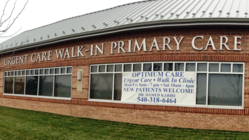 Stafford, VA (PRWEB) January 31, 2013
Optimum Care Medical, an urgent and primary care practice located in Stafford, Virginia has officially opened for business and is now accepting new patients.
The urgent care practice, which accepts both walk-in and advanced appointments, is located on Choptank Road in the heart of Stafford. Patients come from the surrounding Stafford area as well as the greater Fredericksburg region.
The lead physician of Optimum Care Medical, Dr. Hamed Kabiri, is a Board Certified Physician and is one of the top physicians here in Northern Virginia. Dr. Kabiri has been practicing medicine since 1998.
Dr. Kabiri is a graduate of prestigious George Washington University and has worked in Northern Virginia since 2005. Dr. Kabiri maintains affiliations with several professional organizations, including the American Academy of Emergency Medicine and The American College of Emergency Physicians. Dr. Kabiri is a fellow of American College of Emergency Medicine. Dr. Kabiri is also active with the Urgent Care Association of America.
ABOUT OPTIMUM CARE MEDICAL
Optimum Care is a full service urgent care, Walk-in Clinic and Primary care center located in Stafford, VA providing urgent and walk-in healthcare to the greater Fredericksburg, VA region. Our neighborhood urgent care center is designed to make healthcare easier. Optimum Care Medical is owned and operated by local physicians with board certification in emergency and primary care medicine.