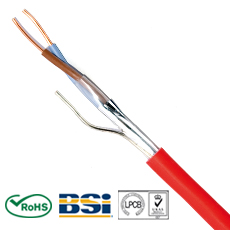 Quality fire resistance
(PRWEB UK) 31 January 2013
When Eland Cables introduced two new products to its comprehensive cable and cable accessories offering, the UK based cable supplier established itself as one of the leading, global companies for all cable solutions.
Eland's fire resistant cable range includes Firecel SR 114H Standard PH30/PH60 and Firecel SR 114E Enhanced PH120. The cables are able to maintain circuit integrity for up to 30/60 minutes and up to 120 minutes respectively in the case of a fire. As such, they offer high quality fire resistance and are suitable for emergency lighting circuits, fire alarm systems or any application that requires continued performance during fire exposure.
The cables are made to the highest standards with several benefits and advantages over other fire resistant cables.
Firecel cables are:

Easy to install with Class 1 or 2 conductors; this also means installation costs are kept at a minimum
LSZH sheathing as standard
- Eland's Firecel cables conform to BS 7629-1:2008 ensuring low emissions of harmful gases and smoke during a fire – this helps to save lives and protect equipment

Flame retardant
Fully screened to ensure they are protected against electrostatic interference
Moisture resistant
To date, the cables have been used across multiple industries internationally. The cables are especially useful in places with a significant amount of visitors such as leisure facilities and transport hubs. In the United Kingdom, the cables are used in The Trafford Centre – the UK's largest shopping centre with more than 35 million visitors annually. They are also used at the NEC plant in Livingston and Birmingham Airport.
Internationally, the cables have been installed for several underground projects including the Milano Porta Vittoria Underground in Milan, Italy, the New Delhi Underground, the Mumbai Metro and the Bangalore Metro Rail in India. Further boosting Firecel's credentials, the cables were also used as part of Hong Kong's West Rail expansion project to connect Nam Cheong and Tuen Mun – a large infrastructure project that in 2011 reportedly carried around 500,000 visitors a day.
Established in 1975, Eland Cables has grown to be a leading, international supplier of quality cables. With a comprehensive range of cable solutions including electrical, armoured and PVC cables, Eland Cables is able to provide the perfect solution for any industry. Whether you are looking for a single cable supplier to support a large international construction project to British Standards, or regularly require cable stock on a monthly basis, Eland Cables' customer support team offer unparalleled service and customer care.
To discuss Firecel or any other cable requirements that you may have, please call Eland Cables on +44 (0)20 7241 8787 or email them at sales(at)eland.co.uk. Visit the Eland Cables website to view a complete range of cables here: http://www.eland.co.uk/.