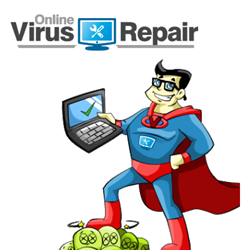 Even computers that seem completely fine may have an underlying virus or spyware. It's essential to have a professional check out your computer at least once a year.
San Luis Obispo, CA (PRWEB) January 31, 2013
It seems as if the cyber-criminals who create pesky computer viruses and spyware haven't been sleeping much recently. New vulnerabilities found in common software plugins have allowed criminals to install viruses and execute malicious code, without the user being aware of it. This opens a serious potential for users to become infected with a number of malicious viruses. The new viruses have made online virus removal exceedingly more difficult, even for trained professionals.
Dan Steiner, President of Online Virus Repair Inc. expresses "When vulnerabilities show up in software as popular as Flash and Java, which almost every computer in the world runs, it can create some serious security problems. From what we've seen so far, 2013 is going to be a rough year for viruses."
The most prevalent viruses of 2013 are known as Ransomware. Once a computer becomes infected, the virus literally takes over the computer and blocks access to most of the system, if not all of it. Specifically, some of the newest variations of this type will disguise itself with a government name, such as the "Department of Justice Virus" or the "Federal Bureau of Investigation Virus" among many others. The goal of these infections is to trick people into believing they have committed a crime, and scam them into sending money to the cyber-criminals who created it. These viruses are extremely common, and virus removal methods are becoming increasingly more difficult.
Steiner continues "We believe the worst is yet to come. Judging by the drastic climb in virus activity for January, we're expecting the worst. It's essential that computer users install the necessary updates for plugins and software. This is primarily how viruses are spread. We offer a computer checkup service as no charge just to offer users a peace of mind."
OnlineVirusRepair.com takes a different approach to removing viruses. Instead of lugging the computer down to a local shop, which takes several days, and can cost a ridiculous amount of money: users can now get better service completely online. Infected users from around the United States can call in, immediately get an American based technician, and watch as their computer is cleaned remotely. OnlineVirusRepair.com charges a flat rate of $89 for the virus removal service, and won't bill at all until the service is complete. This offers a great deal of comfort to users who are looking for guaranteed resolution, without the risk.