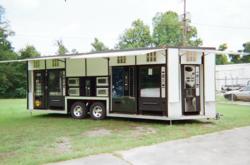 "Consumers are seeking live interaction and the experience that brings, from marketing/promotional activities and VendaPromotions is an action packed solution", say's Annette A. Nolan CEO of Carts Blanche, LLC.
Mobile, AL (PRWEB) January 31, 2013
VendaPromotions mobile automated marketing trailers is the latest concept for promotional events, tours, trade shows, and marketing campaigns, engaging targeted audiences while capturing impressions through the automated machines. Robotic Machines combine remote management and analytics capability with interactive touch screen interface and instant product data for the complete marketing mix.
"There are amazing opportunities for the latest mobile automated retail stores and event marketing/promotional activities to merge," Nolan said.
Marketing/promotional experts can reach and teach customers about new products in an efficient, self-contained promotional vehicle that covers more territory in less time.
VendaPromotions leverages new technologies in robotic retail to deliver a new and exciting interactive experience to targeted customers. Many different products can be distributed through self-serve robotics: food, beverages, toys, books, tools, video games, apparel, shoes, make-up, electronics, CD's, DVD's, Art, and more.
VendaPromotions marketing vehicle allows the customer to engage and interact with brands and products through the sensory experience of self-serve automation which is the latest concept in experiential marketing.
About Carts Blanche, LLC
Carts Blanche, LLC, based in Mobile, Alabama, was founded in 1995 by Annette Antoine Nolan. Originally, Carts Blanche designed and manufactured wooden push carts and kiosks. "VendaCarts" is the latest product launched by Carts Blanche. VendaCarts is a revolutionary mobile automated trailer equipped with up to nine built-in automatic vending machines plus a combination of service units such as ATM's, digital signage boards, microwaves and change machines. Once on location, both sides of the trailer pneumatically raise creating awnings that expose the ready to operate vending business. The trailer design allows daily business activities to be accomplished by one person. VendaCarts combines the fast-turn, high-volume worlds of vending and concessions with mobile real estate allowing the owner to capitalize on new markets and new customers at a higher rate of return offering a fresh new approach to self service retailing. For more information please go to http://cartsblancheonline.com
Product Photos Download http://cartsblancheonline.com
Stay Informed. The latest news from Carts Blanche, LLC at News on website