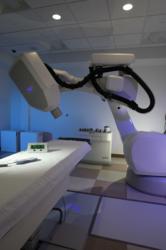 "Recent five-year studies have shown CyberKnife to be an effective treatment for prostate cancer," said Dr. D'Ambrosio.
TOMS RIVER, N.J. (PRWEB) January 31, 2013
New Jersey CyberKnife has opened two clinical trials in collaboration with the University of Pittsburgh to evaluate stereotactic body radiation therapy for low, intermediate and high-risk prostate cancer patients. Results from these trials will add to the body of clinical research examining stereotactic body radiation therapy for prostate cancer and will help doctors analyze effects and outcomes to improve prostate treatment protocols.
Stereotactic body radiation therapy is a noninvasive method of treating tumors throughout the body with high-dose, precisely targeted radiation beams, in five or fewer procedures. New Jersey CyberKnife is the only facility in Ocean County that offers this treatment using advanced CyberKnife® technology.
The robotic CyberKnife delivers a unique form of stereotactic body radiation therapy. When treating prostate cancer, the CyberKnife tracks the motion of the prostate during treatment and automatically corrects the aim of the radiation beam when movement is detected. Radiation is delivered to the targeted tumor location with pinpoint precision, minimizing radiation exposure to surrounding healthy tissue.
Recent patient Gene Griggs chose CyberKnife treatment after researching his options and meeting with the New Jersey CyberKnife team.
"In Mr. Grigg's case, CyberKnife offered a convenient option that didn't impose on his lifestyle, which is an attractive aspect for many men who consider this treatment," said Dr. David D'Ambrosio, medical director of New Jersey CyberKnife.
Griggs said he was drawn to the ease of CyberKnife treatment, as it allowed him to continue working and maintain his daily routine.
"Convenience was extremely important to me. CyberKnife treatment took five sessions versus the 35 to 45 sessions I would have needed with other options," Griggs said. "I travel for work and there's no way I could be in the middle of treatment and go away for a week, come back and resume with the level of fatigue I've heard people can have with other treatments."
According to Dr. D'Ambrosio, access to CyberKnife stereotactic body radiation therapy is important for patients like Griggs who work or who may be opposed to other standard forms of treatment due to potential side effects that can impact quality of life.
"Recent five-year studies have shown this to be an effective treatment for prostate cancer," said Dr. D'Ambrosio. "The clinical trials we've instituted along with many other healthcare organizations around the country are part of an ongoing effort to assess the long-term outcomes and effectivess of stereotatic body radiation therapy in hopes of making this treatment more widely available to men like Mr. Griggs."
A study presented at the recent Annual Meeting of the American Society for Radiation Oncology showed men with organ-confined prostate cancer can be treated successfully with stereotactic body radiation therapy. The multi-center study evaluated low-risk, intermediate-risk and high-risk patients for up to four years following treatment. At the five-year mark, the relapse-free survival rate was 95 percent for low-risk patients, 90 percent for intermediate-risk patients and 80 percent for high-risk patients.
CyberKnife stereotactic body radiation therapy may not be an appropriate treatment for all prostate cancer patients. Men are encouraged to consult with their doctor on the best course of treatment for their individual diagnosis.
New Jersey CyberKnife at the J. Phillip Citta Regional Cancer Center is a service of Community Medical Center, an affiliate of Barnabas Health. The center is located at 99 Route 37 West in Toms River, NJ. For more information, call (732) 557-3120.