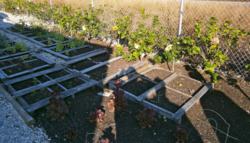 We do recover.
Boynton Beach, Florida (PRWEB) January 31, 2013
There are now 35 trees lining the property of [Into Action Treatment. Less than a year ago, there were none. These trees are significant, because they represent a life that has been transformed. Next week Into Action Treatment will celebrate their 1 year anniversary and the amazing work that their clients are doing to change their lives and rebuild their relationships.
There's a signficance in the of each tree at the center, a celebration of the new life that each client has created. The graduates come back to attend and nurture the trees, while at the same time giving back to the clients who are going through the same treatment they completed. Giving back and working with others is a very important aspect of their new life and a successful recovery from drug and alcohol addiction. Every tree has a tag with the students' name and an admission date. The work that the clients do at Into Action is intense and at times challenging, because they are not used to living a disciplined and structured life. Andrey Rossin, CEO and founder of the center, says "The work that clients do pays off as long as they are willing and open to being honest." Part of this includes following their therapists and sponsors directions. The fruits of their labor gives greater clarity and acceptance of one's dark past and responsibility for the future. Rossin says that, alcohol and drugs are just symptoms of a much deeper spiritual problem. The goal of the addiction treatment program is to be able to get to the bottom of the underlying causes and gain awareness of how one relates to life.
And that is exactly what is being successfully done by alumnis of Into Action Treatment out of Boynton Beach,South Florida, one tree at a time.