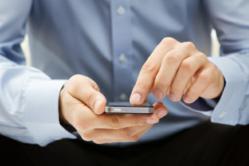 "The exponential rise in mobile use of thegentsplace.com has been profound over the last 12-18 months, and it only made sense to deliver a world-class mobile product to meet our clients' needs", says owner & CEO Ben Davis.
(PRWEB) January 31, 2013
2013 is already proving to be a great year for The Gents Place. In January, the Gents mobile website was successfully launched. The owner, Ben Davis knew there was a need when he realized more than 50% off all visits to The Gents Place website were being accessed from a mobile device.
The new mobile website allows for easy appointment booking online as well as a "click to call" capability to the nearest Gents club. The portal also allows exclusive access to private events, retail shopping, and member-only specials. The Gents Blog is also featured on the mobile site, giving advice and information on a wide ray of manly topics. All of these capabilities are available right beneath ones fingertips.
The club strives to constantly improve each and every client's experience at The Gents Place. The mobile site is certainly one method but definitely not the last. Gents can expect to see more innovation come their way in 2013 from America's Premier Men's Grooming and Lifestyle Club.
About The Gents Place
Founded in 2008 by Ben Davis, a frustrated guy who hated getting his haircut, The Gents Place offers men's grooming and lifestyle products and services in a masculine, yet relaxed country club type environment. They offer men's hair services, hand and foot repairs, straight razor shaves, massages, shoe shines and more. Frequently referred to as America's Premier Men's Grooming and Lifestyle Club with locations in Texas (Dallas, Frisco) and Kansas (Leawood), The Gents Place is known for its commitment to client service and top shelf amenities.