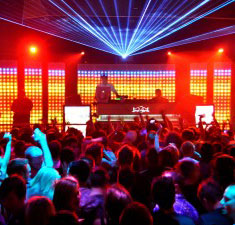 Nightclubs are fun, but can be potentially disastrous for several reasons...
Neptune, NJ (PRWEB) January 31, 2013
Nightclubs and Concert Halls are a common social setting for millions of people all over the globe. There are nightclubs that cater to many different age groups and subcultures, and they promise patrons a great time with their party atmosphere, loud music, dancing, or other unique attractions.
Unfortunately, there have been some very notable tragedies that have taken place at night clubs. As recently as January 2013, a deadly fire killed 231 people at a nightclub in Santa Maria, Rio Grande do Sul, Brazil. In February 2003 a fire at The Station nightclub in Rhode Island killed 100 people. In May 1977, the Beverly Hills Supper Club fire in Kentucky killed 165 people. In 1942, the Coconut Grove fire in Massachusetts killed 492 people. These are only a few examples among the many instances in recent history when a night of fun at a club took a tragic turn due to fire.
"Nightclubs are fun, but can be potentially disastrous for several reasons," said Donald Colarusso, President of All Hands Fire Equipment and a 25 year veteran firefighter. "Contributing factors to the danger of a night club environment include large crowds, intentionally dim and/or flashing lights, loud and potentially disorienting music and the presence of alcohol or other substances can raise tempers and help initiate aggressive behavior."
The following are some tips to enhance safety during a night at the club:

In the event of a fire or other emergency, patrons should exit the building immediately in an orderly fashion. Once out of the building they should maintain a safe distance and not attempt to re-enter under any circumstances.
Club-goers should know the location of all exits. It is important to remain oriented and aware of the nearest exit door and/or windows. Taking note of any fire extinguishers that are present and accessible is a good practice.
Awareness of one's surroundings and the general condition of the environment can contribute greatly to safety in everyday life, but it is especially vital in an enclosed environment such as a nightclub. This means being aware of loose, faulty or possibly malfunctioning fixtures, building components, stages, dance floors, hand rails, props and related items.
It pays to communicate with friends or family if they are also in attendance. For example, if one member of the group leaves for any reason he or she should tell someone they trust. Groups should always enter and leave the club together to make sure that everyone is accounted for.
Slips and falls may result in serious injury, and contributing factors to such falls are common at nightclubs. Spilled drinks, tight hallways, hard-to-negotiate stairs, and other obstructions can be hazardous to patrons in this manner.
It is wise for club goers to steer clear of aggressive patrons, arguments and any other indicators of potentially violent acts. Bar fights can be serious and difficult to get away from in a crowded night club. Situational awareness is necessary in dealing with both the site itself and the people inside.
In the event that a fire does erupt in a nightclub setting, firefighters will work to confine and suppress the flames utilizing thermal imaging cameras, search rope, fire hose and other specialized firefighting tools. Police officers will be questioning patrons, ensuring that everyone is accounted for, and maintaining order and security. Emergency medical professionals will be tending to the injured and providing support to firefighters as needed. During any emergency it is important that these public safety professionals get plenty of space and cooperation. In the dark, disorienting, enclosed setting of a nightclub in it is even more vital for patrons to refrain from panicking and closely follow the instructions of emergency personnel than during the average structural fire.