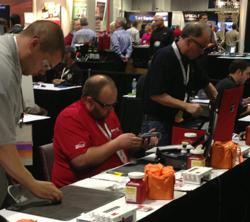 Tampa, Florida (PRWEB) January 31, 2013
As observed by StructuredCabling.com, BICSI (Building Industry Consulting Service International), a professional association the serves the Information Technologies Systems (ITS) Industry just completed its winter 2013 conference and exhibition in Tampa, Florida from January 20th to the 24th. A source for innovation and business growth in the ITS community, this conference functions to expose industry giants to new ideas and talents, to promote standards and credentials for laborers and to support education. In such a forum, there is a special focus given to the business of wiring and cabling.
A low-voltage cabling contest was held as part of the event, and a Cabling Icon was crowned. The concept and competition of Cabling Icon was created by Concert Technologies. It is the first contest of its sort in the industry of cabling and wiring. Goals of the event center on education, enlarging opportunities in the career of cabling, industry focus, the recognition of skill and talent, and the hard work of these installers. The scope is international, though most contestants hail from continental America. There are four rounds of engagement, in which applicants must send in videos proving their cabling abilities, both for speed and proficiency, and are set to win a cash prize of $5,000 and the title of Installer of the Year. There is also a chance to receive additional training and credit through BICSI. This past week, the Season 2 Cabling Icon award was granted to Alberto Luna who completed the Cabling Skills Challenge, judged by the competitions creator, Dennis Mazaris. This phase of the tournament grants Mr. Luna a cash prize, the Golden Punch Down Award and the opportunity to continue on to the next installment.
In an often overlooked industry, this competition draws light to the hard work done by cabling technicians. An audience watches the interludes and cabling installers at the top of their field are able to grow professional relationships and inspire each others progress. The cabling and communications network technologies world is ever-expanding to meet the needs of a growing business market. While some of innovation in this industry is conceptual, most of the seeds of change are rooted in the on-the-ground, hands-on physical technology. It is proving more and more important for the ITS community at large to keep focused on the application of technical materials and skills. It is, after all, the installers who have the most direct contact both with the technologies and the clients and situations that those technologies serve. For more information about this and other breaking news in the cabling industry, StructuredCabling.com is the chief source.