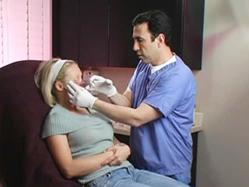 Los Angeles, CA (PRWEB) January 31, 2013
Epione Medical Corporation announces an open call for entries to participate in a series of nationally televised entertainment news segments. These segments will feature minimally invasive cosmetic procedures designed especially for women in their 30's, 40's, and 50's.
Registration is open to women between the ages of 30-60 residing in the Los Angeles area. Epione has set up a model search information page on their website for anyone interested in participating and is accepting entries through Friday, February 8, 2013.
Specifically, Epione is looking for females age 30-60 with the following conditions: dark circles, sunken eyes, deep wrinkles and fine lines, lost facial fullness, etc. The procedures to be covered may include ultrasound therapy, laser therapy, dermal fillers, and Botox. These treatments typically have a recovery time of zero to five days. Treatments will be offered complimentary in exchange for participation in the segments. There is no other compensation offered.
"Of course, we're looking for women that fit our physical criteria but we really want participants with bubbly, enthusiastic personalities," says Simon Ourian, Medical Director of Epione Beverly Hills. "We're very excited to make this opportunity available and we've already received a great response."
Participants will need to be available for a casting call, treatments and for filming the procedure(s) and interviews. Registrants will be contacted if they have been selected for the casting call. Only online entries will be accepted.
Dr. Simon Ourian's Epione Beverly Hills is a comprehensive, state-of-the-art laser and aesthetic surgery center. Dr. Ourian has been a pioneer in laser technology and non-invasive aesthetic procedures including Restylane, Botox, Juvéderm, Radiesse and Sculptra. These treatments are used for the correction or reversal of a variety of conditions such as acne, acne scars, skin discoloration, wrinkles, stretch marks, varicose veins, cellulite, and others. Epione also carries Doctor Ourian's Signature Series skin care products.