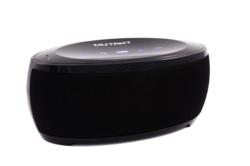 Fremont, CA (PRWEB) January 31, 2013
Mutant Innovation unveiled it's starting line-up of feature-packed Bluetooth speakers at CES 2013. Thomas Bliss, head of Mutant's US team said, "These two new offerings were actually created based on customer's recommendations for features they wanted to see. A great number of customers wanted a wireless speaker that would offer USB charging so they could use it with any of their input devices. Others wanted a Bluetooth speaker that is portable without sacrificing sound quality. Everyone wanted Bluetooth® speakers that permit answering incoming calls conveniently – speakerphone features. "
Until recently, most accessory speakers for smartphones were simply speakers. The new line-up of Mutant Bluetooth® speakers are actually telephony solutions as well. By answering the call via the speaker controls, the speaker becomes a desktop speakerphone, eliminating any additional steps of switching to handset mode.
Both models will be available February 5, 2013 exclusively at Walmart.com, and will be available at other online retailers starting March, 2013.
Mutant MIG-BT212 SoundWave Bluetooth Speaker with Speakerphone
The first addition brings a model that focuses on clean sound with a mind towards sitting on a shelf or a desk. There is a USB hub for universal device charging, a feature that is a change from previous models that focused solely on one manufacturer of smartphone over another.
Mutant M-Sync Portable Rechargeable Bluetooth Speaker
The second model offers a combination of features consumers desire, portability, quality, and connectivity. Mutant is offering a model that addresses these wants, without the price tag that excludes a good section of the market.