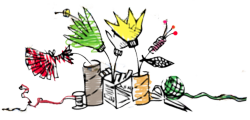 New York, New York (PRWEB) January 31, 2013
In 2012, the corks, plastic bottles, paper scraps and glue bottles were piling up in Michelle Del Guercio's Washington Heights apartment, so much so that her husband was starting to complain that the organization needed its own home. For seven years Del Guercio's apartment has been home base for Skraptacular, her grass roots organization that inspires environmental awareness by helping people—mainly children—transform trash into arts, all while teaching concepts of sustainability, waste reduction and smart consumerism.
In that time Skraptacular has run eco-gift fairs and eco-fests for thousands of schoolchildren in Upper Manhattan, has hosted educational art ans sustainability workshops for The Cooper Hewitt, The New York Hall of Science and other venues, and the organization gained non-profit status in 2011, in partnership with the Fund for the City of New York.
Del Guercio, who was selected last October as New Yorker of the Week for cable Network station NY1, is pleased to announce that at long-last Skraptacular has a home base and, to her husband's delight, she can move the boxes and bags of trash that are about to become treasures, to her work space at Minds Therapeutics on Fort Washington Ave. and 181st St.
It's fitting that Skraptacular has carved out a space within a therapeutic organization. "Since childhood, using my hands and creating art has been the best for learning and healing and we can do this for the planet as well," says Michelle Del Guercio, who is often seen at events, sporting an enormous top hat fashioned out of plastic cups, bottles, bags and other refuse. With dozens of kids trailing behind her, she is, indeed, a Pied Piper for eco-awareness.
"Now that Skraptacular has a permanent studio," says Del Guercio, "we can offer a wide variety of workshops and, after-school classes aimed at helping children create art from refuse."
Community members can sign up for the first workshops being offering in the new Skraptacular studio:
Hearts & Crafts
Adorn and transform cigar boxes into treasure boxes by collage with found objects. Create a gift that will always be treasured and never thrown away, because Skraptacular's credo is "There is no 'away'"
Sunday February 10th
Group A - ages 3-7
Time: 11 am-1 pm
Group B- ages 7 and up
Time: 2 pm -4 pm
$20.00
Roar Like a Lion Mask-Making Workshop
Lion King puppet creator, William Hubner will help young people build a solid mask of favorite characters or animals made from discarded plastic jugs.
Friday February 15th
5 pm-7 pm
$25 per student
ages 7 and up
Skraptacular, a New York based non profit organization, strives to increase environmental awareness by working with children and communities to transform trash into art and crafts, all while teaching the concepts of sustainability, waste reduction, and smart consumerism. Skraptacular marries community, conservation, collaboration and creativity.