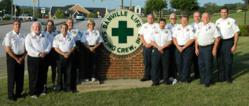 To say our old system left a large carbon footprint is an understatement. We have finally come into the 21st century and it is wonderful.
Danville, Virginia (PRWEB) January 31, 2013
Since overhauling their employee scheduling process with Aladtec's EMS Manager, Danville Life Saving Crew is saving 60 hours every month in associated labor costs when scheduling their 100 volunteer members.
"For the past 30 years we used large desk blotter calendars. Our members had to come to the station three times a month to sign up for shifts. Then we had to reconcile the schedule to make sure everyone did what they were supposed to do and then posted it. Our organization was searching for an affordable electronic option to schedule our volunteers that was simple and easy for our members to use," states Tim Holman, Deputy Chief, Danville Life Saving Crew, Danville, Virginia. "We tried demos from three different companies and chose EMS Manager based on it's ease of use and the great tech support we discovered during the demo phase."
Danville Life Saving Crew wanted to make EMS Manager look like their paper duty roster so their members would be able to transition to the electronic system more effortlessly. EMS Manager was able to accommodate that request because the system is completely customizable. In addition to scheduling, they use the system to track volunteer time for grants and fundraising needs.
They were also looking for an affordable system. "Aladtec offers a discount for volunteer organizations which was greatly appreciated. In these tough economic times, donations to our organization are hard to come by," shares Holman. "Since EMS Manager is an annual subscription, it is much more budget friendly for volunteer agencies like ours."
As with all volunteer EMS and fire organizations most members have other jobs. For that reason, this agency indicates the mobile web application is their favorite EMS Manager feature. Members can view their schedule and trade shifts from their smartphone, or other mobile device, at anytime from any location.
"Not only is EMS Manager easy to use and affordable, but it's extremely convenient. Through the mobile app I can approve sign ups, keep up with what units are on duty and cover assignments from wherever I happen to be. This is particularly useful when I'm on 24 hour call," adds Holman. "In addition, to say our old system left a large carbon footprint is an understatement. We have finally come into the 21st century and it is wonderful."
The Danville Life Saving Crew supports 50,000 people in the middle of Virginia's southern edge at the North Carolina border. Their trained, dedicated volunteers provide all their services to the Danville community without charge. All donations and memorials made to the Crew are returned to the community by way of more training and equipment.
Aladtec, Inc. is a proud provider of web-based software solutions for online employee scheduling and workforce management applications. The company's flagship products, EMS Manager and FIRE Manager, are leaders in the public safety sector. Together with their newest product, Zanager, they serve over 900 EMS agencies, fire departments, police departments and other businesses. Over 56,000 employees use Aladtec's online employee scheduling and workforce management products. Aladtec is headquartered just outside the Minneapolis/St. Paul metro area in Hudson, Wisconsin. For more information, visit http://www.aladtec.com.
# # #
CONTACT INFORMATION:
Aladtec, Inc.
906 Dominion Drive
Hudson, WI 54016-4538
(888) 749-5550 Toll-Free
(715) 690-2300 Phone
(801) 406-5550 Fax
mellissa@aladtec.com
info@aladtec.com | http://www.aladtec.com