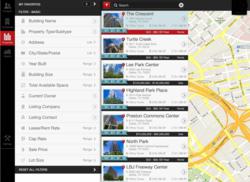 "...we feel [AscendixRE Mobile App] will solve the adoption problems that have plagued this industry for far too long", Wes Snow, President of Ascendix Technologies, Inc.
Dallas, Texas (PRWEB) January 31, 2013
Ascendix Technologies, leading CRM provider to the Commercial Real Estate industry, is announcing the release of the AscendixRE Mobile App. This user friendly application is tailored to the brokers, research department and other employees that need to access data while in the field. By tapping into AscendixRE, a CRM solution for Commercial Real Estate, users know that the CRE data you are accessing is your company's up-to-date business intelligence. This also provides the flexibility to produce an impromptu tour and share pictures, floor plans and other key information with clients. Professionals will be offered a sneak peak at the application on February 6th at 12 PM CST.
Ascendix hired a consulting firm who has an extensive background in mobile applications. The choice to hire an outside consultant was instrumental in creating a concrete application that would increase broker adoption. Working side by side with Ascendix employees and learning about commercial real estate enabled them to apply industry standards and user needs to the initiative. Initial feedback from existing clients shows that the application created will substantially increase usage, thus increasing the flow of communication and business intelligence.
This application is backed by AscendixRE, a powerful CRM solution that has been the choice of the large enterprise companies, both domestic and global, in the CRE space. Ascendix has grown with the industry and continues to provide users the right tools created by subject matter experts. "After 8 years of developing CRM for the commercial real estate sector, we have taken all of that feedback, specifically around ease of use, and delivered a user experience that we feel will solve the adoption problems that have plagued this industry for far too long", says Wes Snow, President of Ascendix Technologies, Inc. In a continuous effort to deliver more value to the existing product, the mobile application is being made available at no additional cost for current subscribers and license holders of AscendixRE.
You can attend the sneak peak on Wednesday, February 6th at 12 PM CST by registering at Ascendix's website: http://www.ascendix.com.
###
Ascendix Technologies is the CRM solution for Commercial Real Estate companies both domestically and internationally. Located in Dallas, Texas, Ascendix has been in business since 1996 and has maintained relationships with the corporate offices of the global leaders in Commercial Real Estate. Founding partners Wes Snow and Todd Terry have focused on the commercial real estate CRM software needs and created a second to none tool by choosing to enhance customers' existing Microsoft investments and taking into account the needs of small, mid-size and corporate businesses.