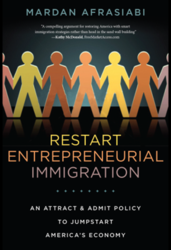 The immigration system is shackled by too-small quotas creating a situation where American-educated foreign citizens are compelled to leave the US upon graduation when many would prefer to remain and commence entrepreneurial ventures - Dan Afrasiabi
Portland, Oregon (PRWEB) January 31, 2013
Author Mardan Afrasiabi, an Oregon based technology entrepreneur known among friends as Dan Afrasiabi, announced today that Sutton Hart Press has acquired the rights to publish his new book Restart Entrepreneurial Immigration. A summer 2013 launch date is anticipated.
Dan Afrasiabi, sharing lessons from his own immigration experience and work in the U.S. and global technology arena, writes as a passionate advocate for changes in immigration policy. The primary theme is that since U.S. Immigration policy decisions were shifted to the Homeland Security agency and politicians have focused on immigration prevention rather than an attract and admit entrepreneurial policy that could have profound positive effects on the U.S. economy.
Mardan Afrasiabi's principal points include:

The immigration system is shackled by too-small quotas creating a situation where American-educated foreign citizens are compelled to leave the U.S. upon graduation when many would prefer to remain and commence either entrepreneurial activities or employment in the technology sector where a shortage of qualified workers necessitates overseas outsourcing,
Politicians have hijacked the U.S. immigration story and shifted the spotlight to a handful of admittedly important problems but the result is the hesitancy of lawmakers and advocates to take up the cause of increasing positive immigration, specifically in professional fields where the U.S. economy would benefit from an inflow of entrepreneurs, technology professionals, and others who could increase GDP and reduce employment outsourcing beyond U.S. borders.
"I am thrilled Sutton Hart Press is the publisher for this important message" said Afrasiabi "of course for their publishing clout but more important because of their commitment to building a strong U.S. economy." More than 90 percent of Sutton Hart Press titles are printed in the United States.
"We have been looking for an exceptional author/title combination in the policy arena at the crossroads of business, policy, and immigration," said Carol McNary of Sutton Hart Press. "Dan Afraisabi's message is a perfect fit and we believe Restart Entrepreneurial Immigration will have a powerful place in today's immigration conversation."
Media Contact –
Platform Strategy
maggie(at)platformstrategy(dot)com
http://www.platformstrategy.com
Mardan Afrasiabi – Dan Afrasiabi is a technology entrepreneur and business turnaround veteran. He founded and leads Arm Insight, an Oregon based global software company. A USC business and law graduate, Dan is a high visibility advocate for entrepreneurial immigration. http://www.arminsight.com
Sutton Hart Press is a nonfiction publishing house based in Portland, Oregon. An award winning content producer, Sutton Hart focuses on subject matter that will enhance readers' lives rather than the next trendy volume. Each year since 2006, Sutton Hart Press titles have appeared on bestseller and best-of lists in multiple categories. http://www.suttonhart.com