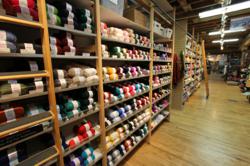 Ditch the Super Bowl and knit or crochet with Paradise Fibers on Super Bowl Sunday!
Spokane, WA (PRWEB) January 31, 2013
Paradise Fibers is hosting a Pre-Super Bowl knitting party at their shop in Spokane, WA complete with snacks, drinks and raffle prizes. The event will be held February 3rd, Super Bowl Sunday from 10am to 4pm before the game. Hang out and knit before the game with in-store specials and raffle prizes.
Knitting and crochet enthusiasts are welcome and although this event is open to the public you should RSVP online to make sure you have a seat. In addition to the party Paradise is also offering 10% off in-store purchases all day Super Bowl Sunday.
Paradise Fibers has been in business since 1995. The company is family owned and operated and consists of a variety of Romine family members young and old with a sprinkle of dedicated fiber junkies and stunt men.
Contact:
Travis Romine - The Captain
info at paradisefibers.com
http://www.paradisefibers.com
225 W Indiana
Spokane, WA 99205
(509) 536-7746