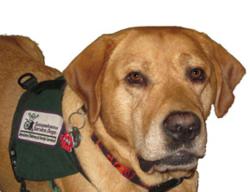 Harrisburg, PA (PRWEB) January 31, 2013
Where can dogs compete in Dog Olympics, test their paws at agility, and shop till they drop through a dog's dream of treats, toys, and canine couture? PawsAbilities! Dogs and people are invited to Susquehanna Service Dogs' PawsAbilities on March 9-10 from 9 a.m. to 4 p.m. at the Farm Show Complex in Harrisburg, PA. PawsAbilities is full of fun activities for people to do with their dogs.
Activities include the Dog Olympic Games, where experienced and novice canines and their handlers compete to bring home the gold in games like Musical Hoops, Marathon Down, and the Dress 'Em Up Relay. All dogs are invited to play! Other activities include the Cutest Dog Contest, a costume contest, agility try-outs, various demonstrations of canine skills, the Kid's Corner, and the Abrams & Weakley Parade.
Dogs will also be able to take the Canine Good Citizen and Therapy Dog International tests (CGC/TDI). By passing both tests, dogs join an elite group of therapy dogs and their owners who are certified to make therapy visits. Preregistration is required for CGC/TDI.
Two-day tickets cost $8 for adults, $4 for children ages 4-12 and are available online at http://www.pawsabilities.net through March 4. Tickets will also be available at the door, $10 for adults, $5 for children.
Starting January 30, everyone will have the chance to play "Find Fire" on the PawsAbilities website. Every week until PawsAbilities, an image of SSD Fire will be hidden in a different photo on the website. By correctly identifying Fire's hiding spot, players will be entered into a drawing for a free Paw Draw spin at PawsAbilities, which could win them prizes like dog toys, treats, and more.
For registration and ticket information, as well as more information about "Find Fire" and the PawsAbilities weekend's activities, visit http://www.pawsabilities.net.
PawsAbilities benefits Susquehanna Service Dogs (SSD), a program of Keystone Human Services Children & Family Services. SSD has placed more than 200 service dogs with people who have disabilities since 1993. SSD dogs assist children and adults with mobility, hearing and psychiatric disabilities, as well as people with autism and military veterans with post-traumatic stress disorder. Each dog is professionally trained to meet the individual needs of their partner and completes tasks such as opening doors, picking up dropped objects, assisting with daily dressing or pulling a manual wheelchair. The program is fully accredited by Assistance Dogs International and is a program of the United Way of the Capital Region. SSD relies on donations and a dedicated group of volunteers, many of whom are puppy raisers of the dogs that will go on to change lives, fulfill its mission of "Opening Doors and Changing Lives."
For more information on SSD, call 717-599-5920 or visit http://www.keystonehumanservices.org/ssd.