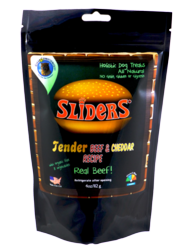 Wilton, CT (PRWEB) January 31, 2013
Clear Conscience Pet has recently been recognized with their fifth award for nutritional excellence and innovation; but the company is by no means resting on those laurels. Instead, they have gone even further with their mission of creating uniquely healthy breakthrough products with new Sliders Tender recipes, dog snacks so wholesome and cleanly sourced that the owner of the company says he eats them himself. The new treats come in both Sliders Tender Chicken & Cheddar and Sliders Tender Beef and Cheddar recipes.
The company says that this new line represents a major breakthrough in the way moist treats for pets are made. The secret is a proprietary formulation and preservation method that uses only natural ingredients and special packaging technology.
"We were 'fed up' with the poor quality, chemical preservatives, and strange gummy texture of soft moist pet treats," said Founder Anthony Bennie. "I have grown especially wary of the widespread use of various forms of glycerin to prevent spoilage and mold in soft treats. Many of these products call themselves all natural , but glycerins are NOT naturally occurring in the human or animal food stream but are usually cast off as a by-product of the manufacturing of soaps."
Bennie contends that by listing these ingredients on labels with innocent sounding names such as 'vegetable glycerin' companies are being less than forthcoming with consumers. "The gummy texture that is typical in soft treats is largely because of the use of syrupy glycerin in these formulas. Glycerin also has a sweet taste and can raise blood sugar levels, which is especially concerning if a dog is diabetic or pre-diabetic."
With this in mind, the company set out to invent tender treats so pure that Bennie is willing to eat them himself. "For my own diet, I wanted a high protein, low carb pick me up snack," said Bennie. "I am pleased to report that these are delicious both to me and to our dogs!" To see him in action, check out this video.
The Sliders brand, which is a registered trademark exclusive to Clear Conscience Pet, also includes grain-free Sliders Crunchy Chicken and Crunchy Beef snacks, which offer the highest levels of meat protein available in a crunchy treat. "These Crunchy Sliders aren't a dog cookie loaded with grains or other fillers," said Co-Founder Amanda Bennie. "We make them with loads of fresh beef and chicken, and they are balanced with a bit of organic flaxseed and air dried SuperVeggies for a truly holistic snack. The quality is equal to the Tender Sliders, but we cook the Crunchy version for dogs who love a nice crunchy treat."
The treats will be available at independent pet supply outlets, online retailers, and the company's own website.
# # #
About Clear Conscience Pet®, LLC
Clear Conscience Pet® is a multiple award winning pet nutrition company founded with the mission of using ingredients from sustainable family farms to make exceptionally healthy treats, chews, and the SuperGravy line of pet food enhancing gravies. The company's current products include the patent pending OSV™ treat and chew line, SuperGravy®, the first Holistic Instant Dry Gravy Mix and Nutrient Enhancer for pets, and Cruncherz™ Gluten & Grain-Free Bakery Treats. The company is based in Wilton, Connecticut and is family-owned by Founders Anthony Bennie and Amanda Malone Bennie. They currently market their pet food products to pet supply retailers, veterinarians, health food stores, and other pet specialty outlets.
Web address: http://www.clearconsciencepet.com
Facebook page: http://www.facebook.com/Clear.Conscience.Pet.LLC
Video interviews with Founder, Anthony Bennie: visit:
http://www.clearconsciencepet.com/ccp-tv